Rajaji tigers straying in Haridwar division, NTCA releases funds for better patrolling
The authorities at the porous Rajaji Tiger Reserve are worried over the increasing numbers of tigers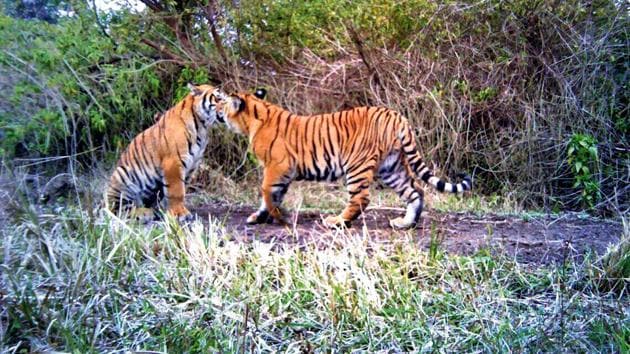 Published on Apr 12, 2018 10:23 PM IST
The authorities at the porous Rajaji Tiger Reserve are worried over the increasing numbers of tigers.
The problem is worrisome as the breeding has increased big cat population in the eastern part of the reserve moving int0 the Haridwar forest division, which borders Uttar Pradesh's Bijnore division, forest officials say.
During the phase IV tiger estimation last year, it was found that Rajaji had 34 resident tigers, including 32 in its eastern part, which spreads across 150 sqkm and two in the western part, which covers 570 sqkm.
The eastern part where the tigers are breeding, borders the Haridwar forest division, which is bisected by the Ganga River bordering Uttar Pradesh.
Due to narrow inaccessible divide, tigers from the eastern part are not able to cross over to the western part of the reserve, following which the big cats are now migrating towards the north and south directions, raising concern for reserve authorities.
The government has failed to eradicate the disturbance between the eastern and western parts of the reserve.
The construction work of three flyovers has been suspended since last one decade and officials are hopeful that work will be completed the end of the year, however, what is worrying them is that tigers have changed its migration pattern, says a top official.
"Earlier, the tigers used to migrate east-west. This means the area of movement of the animals was the eastern and western parts. But, owing to the corridor, which has disturbance, the animals are moving in a north-south direction," says DVS Khati, chief wildlife warden.
Rajaji has a major human intervention and even after relocating forest dwellers—due to the increase in the numbers of tigers--some of the core areas are still reeling under encroachment.
A survey report says that 10 hectare of the reserve is encroached by ashrams.
A number of settlements too have mushroomed along the boundary of the core reserve area.
Officials say that safeguarding straying tigers is the main priority.
In 2015, a tigress that strayed from the Rajaji reserve and was spotted in the Rasiabad and Shyampur ranges of the Haridwar forest division was reported missing.
The then forest minister Dinesh Aggarwal had visited the spot and later the department claimed that the animal strayed into the forest in neighbouring Uttar Pradesh.
No follow up, however, was carried out to track the missing animal.
The reserve authorities released a budget of ₹25 lakh for the Haridwar division bordering Rajaji and Ramnagar divisions bordering the Corbett Tiger Reserve for strengthening patrolling and taking other preventive measures to protect the species.
"The tigers will move, it is a natural behaviour of the big cats. What's concerning is that there's no secure habitat for the animals that stray out of the reserve," says Dinesh Pandey, a Haridwar-based wildlife activist.
Close Story