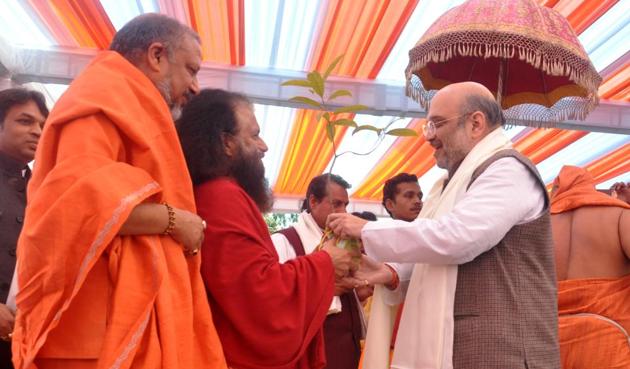 Shah plays development card in Uttarakhand
BJP national president accuses the Harish Rawat-led Congress government in the state of failing to put the mountain state on the development trajectory
UPDATED ON DEC 23, 2016 08:27 PM IST
BJP national president Amit Shah on Friday urged the people in poll-bound Uttarakhand to vote for the saffron party in the upcoming assembly election for better development. Shah accused the Harish Rawat-led Congress government in the state of failing to put the mountain state on the development trajectory.
In Dehradun to inaugurate a private multi-speciality hospital, the BJP chief credited former Prime Minister Atal Bihari Vajpayee for carving out the hill state in 2000. Shah also hit out at the ruling Congress and the Samajwadi Party for opposing the creation of Uttarahkand.
"It (Uttarakhand) will now be nurtured and developed under the leadership of Prime Minister Narendra Modi if our party is voted to power," he said.
He said the BJP-led Centre, on its part, had already begun the process of development in the region. Referring to Modi's proposed visit to Dehradun on December 27, Shah said: "During his visit, he (PM Modi) will lay the foundation stone for the ₹11,000 crore all-weather road in Chardham, which will pave the way for the development in the state."
"Once the safe and secure all-weather road network is complete, people will be able to visit the now disaster-prone Chardham areas round the year, including during the rainy season."
"Uttarakhand Himalaya, endowed as it is with unparallel natural beauty, has the potential to be developed into a world-class tourist destination…But this state has failed to achieve its potential as it was neglected all these years," he said, while blaming chief minister Harish Rawat for the "sorry state of affairs."
Earlier, Union health minister J P Nadda accused the Rawat government of failing to utilise the central government funds. "We sanctioned ₹266 crore for improving the health sector in this state, but this (Rawat) government managed to spend only ₹97 crore," he alleged. Nadda also accused the Rawat government of failing to utilise the central funds released for purchase of medicines.
Close