Uttarakhand to being nine more elephants from Karnataka
Jun 02, 2017 07:25 PM IST
After successfully relocating nine elephants from Karnataka to Corbett Tiger Reserve, the Uttarakhand forest department is set to bring another nine elephants from the southern state
After successfully relocating nine elephants from Karnataka to Corbett Tiger Reserve (CTR), the Uttarakhand forest department is set to bring another nine elephants from the southern state.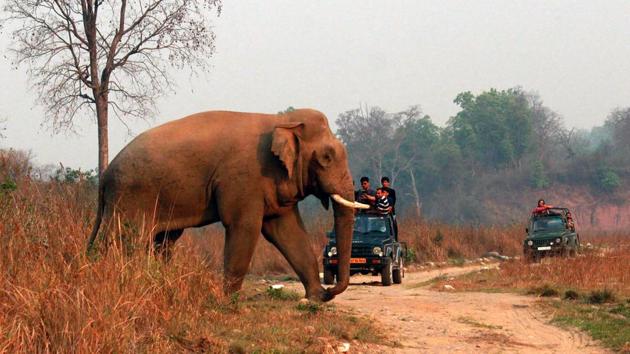 Six elephants would be provided to Rajaji National Park while the rest would be given to Corbett.
The objective of bringing pachyderms from Karnataka is to check wildlife crime by conducting patrolling. The department will be writing to chief wildlife of Karnataka within a week to bring elephants at the earliest.
Funded through Compensatory Afforestation Fund Management and Planning Authority (CAMPA), it took about two years for officers to transport nine elephants from Karnataka to Corbett.
The initial plan was to bring 12 elephants. But, three of the identified elephants were not in good health to be transported. One of these elephants was pregnant and two others were ailing with a disease, said sources.
The department, however, is likely to visit Karnataka for identifying nine more elephants by the end of this month. The transportation is slated within two months time.
Digvijay Singh Khati, chief wildlife warden told Hindustan Times, "I will be writing to the chief wildlife warden Karnataka who has already given in principle approval for transporting elephants. Following which I will send a team there to identify and bring those elephants."
The elephants were brought in February along with their mahouts. They took a week to safely transport the animals.
The elephants were transported for nearly 2,500 km covering Telangana, Andhra Pradesh, Maharashtra, Madhya Pradesh and Uttar Pradesh and finally Uttarakhand.
Unlike the first visit, this time officers are well versed with the route and are hopeful to bring pachyderms within a week's time.
Rajaji currently has three elephants - Radha, Rangili and Raja. The reserve staff patrols with the help of these three elephants.
Especially, with monsoon season beginning June 15 when the reserve along with Corbett would be closed for tourists, elephants become a key transportation medium to conduct long range patrolling.
Sanatan Sonkar, director of Rajaji, said, "Monsoon is a difficult time for patrolling. The forest cover becomes thick and it becomes difficult to track any illegal movement. Under such conditions, elephants become the best medium to conduct patrolling."