Uttrakhand forest officials inspect burial spot of tusker, poaching suspected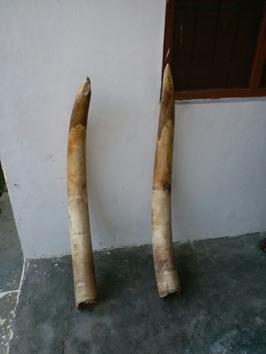 Updated on Oct 28, 2017 08:31 PM IST
Uttarakand forest officials on Saturday carried out an inspection of the spot from where a person arrested with two elephant tusks claimed he buried the carcass of the dead animal.
Officials arrested Mohammad Qasim, 35, on the charge of smuggling animal parts from his residence and booked under Sections 9, 39, 40, 44, 49A and 49B of the Wildlife Protection Act.
Qasim, who was arrested with the tusks from the Terai west forest division near Ramnagar early on Friday, told officials that he burned the bones of the dead elephant after extracting the tusks.
Officials said Qasim was trying to smuggle the animal parts and hand it over to an associate at Peerumdara when he was nabbed.
Qasim, a forest dweller, who lives in a thickly forested area of the division, told officials he found the dead tusker in his farmland and buried the carcass in the ground and once the carcass decomposed, he extracted the tusks and burned the bones.
Officials and wildlife activists, however, suspect that the elephant was poached.
"Going by Qasim's version, if the tusker was found dead, then why couldn't forest staff track it?" questioned Rajeev Mehta, a wildlife activist.
There was no lacuna from our part as far patrolling is concerned, said DK Singh, divisional forest officer of Terai west forest division.
"There could be a possibility that he killed the animal and is lying to us," he told Hindustan Times.
Qasim could not have buried the animal alone and must have taken help of locals, friends and family members, officials suspect.
"Locals are involved in the case, otherwise he couldn't have pulled off the act without help," said Singh.
Officials did not find any traces of the dead animal at the site where Qasim claimed to have been buried it. Qasim will be taken to the spot where he claims he burnt the bones.
In 2016, a similar case was reported from the division, when two tusks were seized from a member of the Rai Sikh community.
In 2010, an elephant tusk was seized in Dehradun.
In 2009, a 35-year old elephant carcass without its tusks was recovered from the Chilawali range of the Rajaji National Park. A case under the Wildlife Protection Act was lodged.
Three more cases were reported the same year--two in Lansdowne and one in Kalagarh.
Close Story