AAP government did more in Delhi than what Modi did in Gujarat in 12 years: Arvind Kejriwal
Updated on Nov 27, 2018 11:41 AM IST
Addressing party workers during the AAP's sixth foundation day function in New Delhi on Monday, Delh CM Arvind Kejriwal said people should compare the records of the AAP government with Narendra Modi's tenure as Gujarat chief minister on schools, hospitals and sewer lines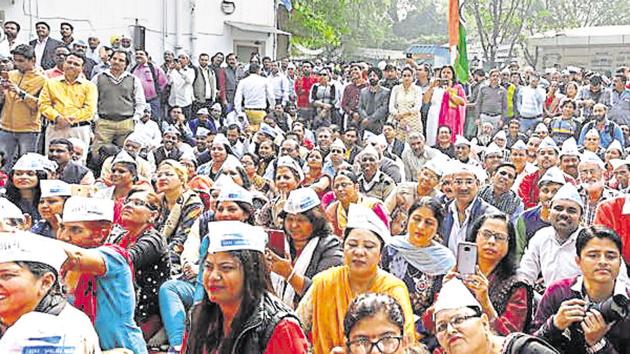 Delhi chief minister Arvind Kejriwal said on Monday that his Aam Aadmi Party (AAP) government in the national capital has fared better than the 12-year term of Narendra Modi as Gujarat chief minister.
Addressing party workers during the AAP's sixth foundation day function at its ITO office, Kejriwal said people should compare the records of the two governments on schools, hospitals and sewer lines.
Prime Minister Narendra Modi served as the chief minister of Gujarat from 2001 to 2014.
"Modiji always talks about the Gujarat model of governance. But the AAP government in Delhi did much more than what he did in Gujarat in 12 years," Kejriwal said.
"The people of Delhi are proud of their honest chief minister. I want to ask the people of the country if they feel the same about their prime minister," the Delhi chief minister said.
"(Compare) their 12 years and our three-and-a-half years. You will know the difference," the AAP convener said. Kejriwal also alleged that in the four years of its rule at the Centre, "the Bharatiya Janata Party (BJP) had indulged in 100 times the corruption than Congress did in 70 years."
The BJP hit back, accusing Kejriwal of trying to "hide his government's failures" by attacking the Prime Minister.
"They have failed in all sectors. They even have not implemented the Central government's schemes like Ayushman Bharat. Blaming Centre is all they can do," said Vijender Gupta, the leader of Opposition in the Delhi Assembly.
AAP commemorated its sixth foundation day by organising an event at its party office in ITO on Monday. Kejriwal, along with other activists of the then India Against Corruption, had launched the party on November 26, 2012.
Deputy chief minister Manish Sisodia, who is currently on a visit to Japan, later tweeted that the occasion marked the possibility of honest politics. "#6YearsOfAAP is actually a celebration of the possibility of honest politics and the possibility that the Aam Aadmi of the nation can agitate, organise & govern to break the chains of corruption, lack of education & healthcare(sic)," he said.
Personalise your news feed. Follow trending topics