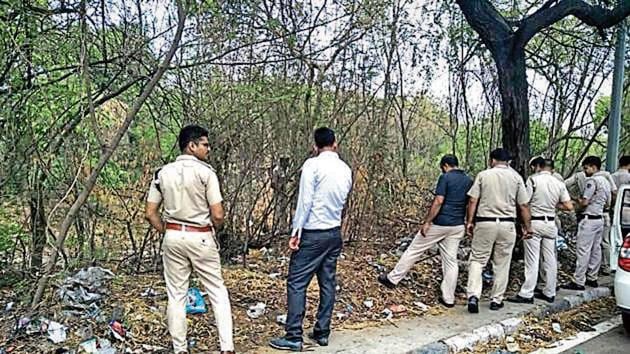 Shailza murder probe latest: Army major 'misleading' cops over crime weapon
By changing statements, Army Major Handa, who killed fellow officer's wife Shailza Dwivedi, has been trying to confuse and mislead the investigating team , say Delhi police.
Hindustan Times, New Delhi | By Karn Pratap Singh
UPDATED ON JUN 28, 2018 11:35 AM IST
Days after army major Nikhil Rai Handa was arrested on alleged charges of murdering Shailza Dwivedi, wife of a fellow officer, Delhi Police are a puzzled lot. They have no clarity over the weapon used in the crime, the clothes worn by Handa, and the motive behind the crime.
To make things worse, Handa has allegedly been confusing the police by changing statements frequently.
Police are yet to recover the 'bigger' knife that they say Handa allegedly used to slit Shailza's throat in his Honda City car before running the vehicle over her on an isolated road at Brar Square last Saturday.
On Wednesday, the investigating team took Handa to the crime spot to recover the knife. Despite a five-hour -long search, the weapon could not be found. Shailza's missing umbrella too is yet to be recovered. wA pocket knife with bloodstains on it was recovered from Handa's car after his arrest. At that time, police had suspected the same knife was used to stab Shailza.
The confusion increased when forensic experts confirmed that the stab wound on her throat was caused by a bigger knife. They questioned Handa and he revealed that he was carrying two knives and allegedly used the other knife to kill Shailza.
"Handa claimed that he threw the knife out of the car while fleeing the crime scene. Investigators believe he is misleading them because the knife has not been recovered despite two days of search," said a police officer.
DCP (west) Vijay Kumar said the clothes Handa was wearing at the time of his arrest from Meerut were the same which he wore when he stabbed Shailza.
During the initial probe, Handa had told police he had burnt the clothes he was wearing at the time of the incident and thrown them in a garbage dump close to his Saket home.
However, the clothes could not be found in the garbage dump.
However, police later found out that he was wearing the same clothes during his arrest.
"When confronted, he changed his statement, saying there were no bloodstains on his clothes. The clothes have now been sent to the forensic lab," said the officer.
Police on Wednesday said they had also recovered Handa's second mobile phone from his home. The other one was recovered from his car. Police said Handa had deleted all important data from both the phones.
Close