Car catches fire in east Delhi; woman, two daughters killed
Hindustan Times, New Delhi |
Anvit Srivastava
Mar 11, 2019 08:55 AM IST
"The fire was massive," said Raj Kumar, an autorickshaw driver who said he tried to help rescue the woman and children. "Many people gathered around the car. Police also blocked traffic on the road to prevent any other vehicle from catching fire."
A 35-year-old woman and her two children — a five-year-old and a toddler — were killed on Sunday evening when the car they were travelling in caught fire on a flyover close to the Akshardham Temple in east Delhi. The woman's husband and their four-year-old daughter, who were sitting in the front, survived.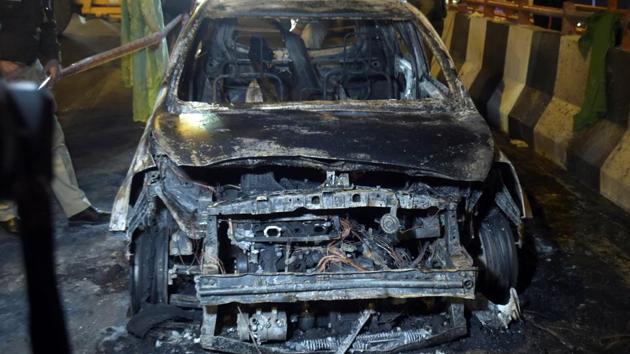 While fire department officials could not confirm the exact cause of the fire, a leak from the compressed natural gas (CNG) is the prime suspect.
Police identified the victims as Ranjana Mishra and her daughters Ridhi (5) and Nikki.
The incident took place at around 6.30 pm when the family were heading to their home in Ghaziabad's Loni.
While Upendra Mishra was driving the car, a Datsun Go, his daughter sat beside him in the passenger seat. The other three were sitting on the back seat, close to the CNG tank installed in the boot.
Chief fire officer from the Delhi Fire Service, Atul Garg, said the department received reports of a car on fire.
"We rushed two fire tenders, a rescue responder and a disaster van to the spot. The fire was doused by our men but by then the occupants of the rear seat had died. The entire car was gutted," he said. "The car had a CNG kit installed in the boot. The fire is suspected to have started from there. However, the exact reason is yet to be ascertained."
Upendra Mishra said that they was heading home after a visit to a Kalkaji temple. "I don't understand what happened. I don't know how car caught fire," he said before he left for Lal Bahadur Shastri Hospital where the bodies were shifted for autopsy.
Deputy commissioner of police (east) Jasmeet Singh said that, prima facie, the source of the fire was the CNG kit installed in the car.
"The man works for an online used car selling company. The car belonged to Upendra Mishra but he had also attached it to his company. The probable cause of fire is CNG cylinder which caught fire. We have not questioned Upendra Mishra yet. We are investigating the matter," he said.
"The fire was massive," said Raj Kumar, an autorickshaw driver who said he tried to help rescue the woman and children. "Many people gathered around the car. Police also blocked traffic on the road to prevent any other vehicle from catching fire."