Delhi accident victim cried for help for 12 hrs, man offered water but stole bag
Delhi hit-and-run: A driver from Jaipur was going to Kashmere Gate ISBT to catch a bus to Bijnor when he was hit by a speeding car. No one came to his help for the next 12 hours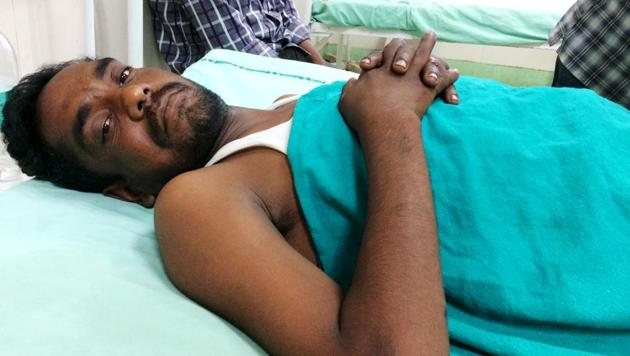 Updated on Aug 19, 2017 10:12 AM IST
Hindustan Times, New Delhi | By Shiv Sunny
, New Delhi
Of the countless pedestrians, who walked past an injured Narender Kumar near Kashmere Gate interstate bus terminus in north Delhi for over 12 hours, many had stopped to look at him before walking away.
But the apathy shown by people towards an accident victim is not the only shocking part here. The city revealed an uglier side when a couple of passersby made away with his phone, a bag of cash and Rs 12 that had fallen out of his pocket instead of rushing him to a hospital or informing the police.
"I had injured my spine after being hit by a speeding car. So, I could not move from my position. But I had not bled and was conscious the entire time," Kumar told HT over phone from Safdarjung Hospital on Friday.
"People stopped to look at me. I pleaded with them for help, but they didn't care. Since I was not bleeding, many thought I must have been drunk," he said.
Kumar, who works as a driver in Jaipur, Rajasthan, was hit by a speeding car while crossing a road near Kashmere Gate on August 15. The car has remained unidentified. Kumar is admitted to the hospital where the police took him after receiving a call from a passerby around 5 am on Wednesday, almost 12 hours after the accident.
He is being treated for injuries in his legs, neck and spine. Doctors said he is out of danger. Remembering that night, Kumar said at least two pedestrians had offered him water when he begged for help. One of them walked away after giving him water. Another man instead decided to steal his bag. The bag contained Rs 15,000 in cash, said Kumar.
The pedestrian walked away with his bag, Kumar said, and his cry for help did not bother him. His phone was also lying on the road which, he said, was picked up by another man who walked past without taking a second look at him.Kashmere Gate has one of the busiest bus terminals and a metro station. The area remains buzzing with people and vehicles at all times.
"Two other pedestrians did show an intention to help. But they could not call for help as they said they did not have mobile phones. So they just left," Kumar said. After finally receiving a call early next morning, the police took him to Sushruta Trauma Centre before he was referred to Safdurjung Hospital.
A native of Bijnor in Uttar Pradesh, Kumar returning to his village via Delhi on Tuesday. "It was an extremely unfortunate incident in which people not only ignored the accident victim but some also stole from him. We have added the section pertaining to theft in the case registered in this connection," said Jatin Narwal, DCP (north). However, there has been no breakthrough.
Kumar is lucky to have survived. In August 2016, a 40-year-old e-rickshaw driver was killed in west Delhi's Subhash Nagar after no one came to rescue him while he lay on the roadside bleeding for close to 90 minutes. Matibool was hit by a tempo around 5 am when he was returning home after a working as a security guard all night. CCTV footage showed that the tempo driver got off, looked at him but drove away seconds later. Police said He too had been taken for a drunk man.
Close Story