Delhi Police women squad 'Raftaar' to fight street crimes on motorcycles
Hindustan Times, New Delhi |
Karn Pratap Singh
Nov 20, 2017 12:51 PM IST
In all, 600 motorcycles, a majority of them piloted by women, will be deployed in Delhi, police officials said.
Delhi Police is planning to deploy a new motorcycle squad consisting of mostly women to tackle street crimes and make the city safer for women, multiple officials have said.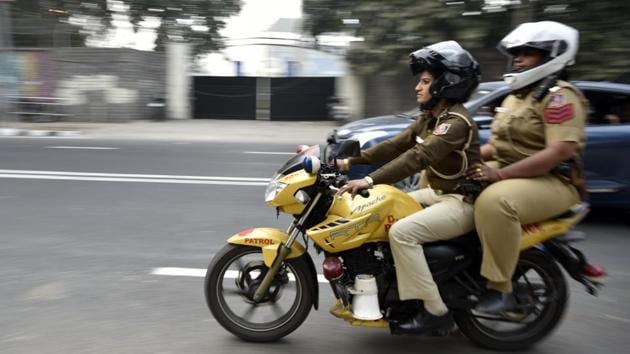 The police have also detailed plans aimed at quickening response time and beefing up presence in the city's narrow streets and lanes.
In all, 600 motorcycles will be deployed with a rider and a pillion on each, said a source familiar with the initiative. The official, wishing not to be named since he was not authorised to disclose specifics, said the idea is based on motorcycle teams deployed in western countries.
A Delhi Police spokesperson confirmed the initiative. "The bikes will patrol narrow lanes and act as the first responder in emergencies. The women-led patrolling bikes will be present in areas frequented by women," said Dependra Pathak, chief spokesperson.
The motorcycles will be equipped with windscreens and don a new livery — grey instead of the current yellow. The riders will be equipped with body cameras, helmet bullhorns, pepper sprays and Taser guns in addition to regular firearms, said the source.
PATROLLING CHALLENGE
The new squad will be called 'Raftaar' and is the second in a series of initiatives to modernise the force's patrolling capabilities after the deployment of 'Parakram' commando vans.
Inadequate patrolling, particularly deep inside neighbourhoods, is one of the factors behind the high rate of street crimes such as snatching and molestation. Till October 31, there have been 7,371 alleged cases of snatching, nearly 2,500 robberies, around 3,000 allegations of molestation and 553 cases of catcalling.
FOCUS ON WOMEN
Improving safety for women is a key objective, the source said, explaining the initial plan was to have all-women teams. "But the problem was the lack of women in the force with driving licences. Hence, the squad will now consist of 60% women cops," the official said. Another senior police officer said 200 policewomen have already started training in high-speed motorcycle riding.
"I train them for one hour each in morning and evening at a nearby stadium and on roads with light traffic. A few of them already know how to ride scooters," said Shushila, a constable from the Maurice Nagar police station.
One of the women being trained is Uma, who said that seeing Sushila ride a motorcycle inspired her to sign up for the squad.
Some of the women, like their male counterparts, will be trained in using MP-5 submachine guns and Insas rifles.
A little over 10% of Delhi Police's 80,000-strong work force is women.
THE EQUIPMENT
At least three motorcycles from each of the 191 police stations will be repainted and retrofitted with new LED flashers, windscreens, baton holders and storage boxes.
"The patrolling bikes will be GPS-enabled and connected with the central as well as district control rooms. Their movement will be monitored and riders will get an alert if they go beyond designated routes or territorial jurisdiction," said spokesperson Pathak.
Once the first of the motorcycle squads hit the streets, which is expected to be by the end of this year, Delhi Police will approach the home ministry to clear acquisition of new motorcycles and gadgets, the sources said.