Delhi's Ghazipur landfill collapse: L-G bans dumping of solid waste at the site
Updated on Sep 02, 2017 03:49 PM IST
The Ghazipur landfill is among the main garbage dumping spots in the national capital, towering to a height of over several stories.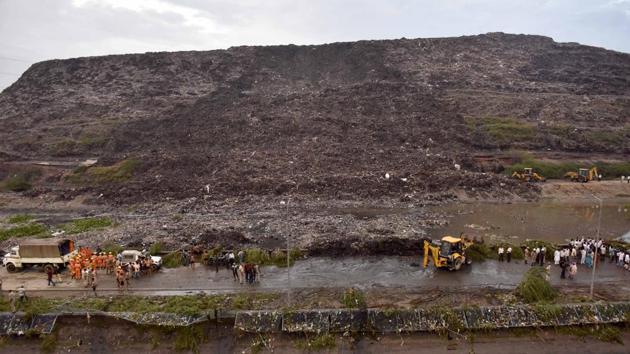 Hindustan Times, New Delhi |
HT Correspondent
Delhi lieutenant governor Anil Baijal on Saturday banned dumping of waste at the Ghazipur landfill site, a day after a mountain of waste collapsed into a canal, killing two people in the national capital.
In a meeting at the L-G house, Baijal ordered immediate halt to dumping of solid waste at the landfill and clearing the site within two years.
According to a press statement, traffic has also been diverted as a safety measure and traffic police posted in the area to advise commuters to use alternate routes.
The order was passed after the meeting held by L-G with the East municipal body commissioner, general manager of the National Highway Authority of India and senior bureaucrats.
"The L-G directed that no more dumping of solid waste and any other kind of silt would take place at the Ghazipur landfill site. The East MCD would be sending its collected dump to another alternative site immediately," the press statement read.
The NHAI has also started lifting the garbage to be used in construction of service roads from November.
The Ghazipur landfill is among the four dumpsites in Delhi and the collected waste had reached a height 50 metre, as tall as a 15-storey building.
Hundreds of tonnes of waste came down on its own weight on Friday afternoon, sweeping several people and a car and a scooter into a canal across the road that runs parallel to the site. A 30-year-old woman and a 20-year-old man drowned while five others were rescued.
Personalise your news feed. Follow trending topics