Delhi's other Boat Club: The guardian daredevils of Yamuna
The Boat Club was set up in 1965 and it gets about 300 distress calls a year. Their work increases when the Yamuna gets swollen after the rains.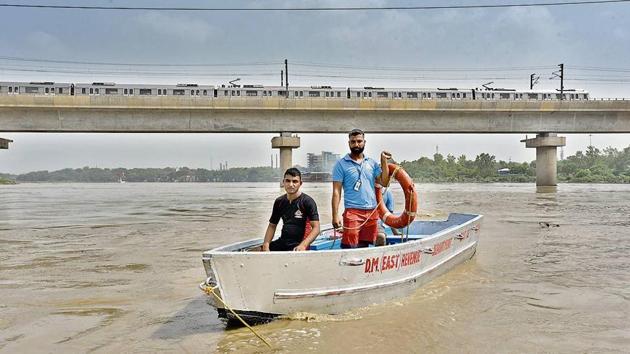 Updated on Aug 06, 2018 07:02 PM IST
Harish Kumar has just returned from the river, a mini-loudspeaker in hand, after a two-hour patrol, warning people to stay away from the swelling Yamuna. No sooner had he settled down in his chair than his phone rang. The caller was a policeman who told Kumar that a man is suspected to have drowned in the river near Sonia Vihar in northeast Delhi.
Kumar urgently takes down the address and dials his team of divers stationed not far away from the site of the mishap. "All four of you go there fast with a motor boat," he instructs his men.
Kumar is in charge of Boat Club – not to be confused with Boat Club at India Gate – a little-known Delhi government agency responsible for searching and rescuing people who fall in the Yamuna, deliberately or by accident.
Its divers patrol the river during the current flood-like situation and retrieve bodies trapped in canals, drains and rivulets. Set up in 1965, the Boat Club gets about 300 distress calls a year.
"For most people, Boat Club is a recreational venue at India Gate. They do not know who we are and what we do," says Kumar, whose sprawling office in Civil Lines is located in a sylvan patch of land with a short mud path softly sloping to the river.
His large cabin has a graphic chart showing the water levels of the Yamuna from 1963 to 2017; a year-wise chart of the drowned and rescued people; a boat model on a side table near a sofa, and many pictures of him and his men during rescue operations. Its high-ceiling rooms have equipment such as boat engines, plastic ropes, life jackets, lifebuoys, dragon lights, among others.
With the Yamuna in spate these days, Kumar and his 30 divers are busy. They are stationed at seven points along the river, ready to dive into its deep, fast-flowing waters whenever there is an emergency. A couple of days before we met this week, they had rescued 15 persons in Burari who were trapped in the Yamuna after they did not heed a warning about the rising water level and failed to vacate their huts on the banks.
A day earlier, the divers had fished out the body of a 23-year-old man who had gone to have a bath in the river near the Yamuna Khader area.
Quite often, the divers dive for dead bodies — a job involving danger, action and drama. On an average, they fish out 100-125 bodies in a year–not just drowning cases but also murder victims and those who commit suicide. Naeem, 26, a diver with the Boat Club for nine years, says it is not a job for the faint-hearted. "Fishing out bodies is not about swimming ability, it is about how you feel your way around; it is about being mentally strong. There is a difference between a good swimmer and a diver," says Naeem, who claims to have found 150 bodies in his nine years with the agency. "For us, bringing the dead back to their families is as important as rescuing people alive. It brings a sense of closure to the relatives."
Kumar says a lot of people drown during religious festivities such as the Ganesh Chaturthi and Durga Puja immersions, and Vishwakarma Puja. In 2013, his men found out 15 bodies in a couple of hours during Ganesh Chaturthi immersion near Wazirabad.
"Many people drown because of their desire to immerse the idols in deep waters. They break the barriers put up by the administration to go deeper into the river and lose control," says Naeem.
Kumar says the number of distress calls to the club has increased over the years mainly because of the rising number of illegal colonies along the Yamuna. "Till the late 1980s, we got only about 20 calls a year. In 2013, we got over 650 calls. The problem is that people in these colonies use the river banks as a picnic spot; they get drunk, then have a bath, which is very risky," he says.
The police ask the divers to search for murder victims in the presence of suspects. "Bodies are never found exactly at the spot where the accused say they threw them. Sometimes they are not found at all, other times, they are found a few kilometres away; in most cases, they are found in a decomposed condition," says Intzaar, another diver, adding, "When we try to pull them out, the limbs come off and we have to dive again to get those out." But doesn't he get scared? Doesn't it affect him? "No, for me, it is just a job. Perhaps, it is also a morbid adventure, but a dangerous one: you never know what awaits you under water — a crevice or a pit or a snake."
The polluted and toxic waters of the Yamuna make their job all the more challenging. "The river and canals are polluted with industrial waste and chemicals. We suffer severe body rash, eye infections, insect bites and nosebleeds," says Javed, a diver who joined a year ago. His divers, Kumar says, can dive 35 feet into the water without an oxygen mask. "But they cannot remain under water for more than a minute because of pollution, unlike in the past when they could do so for at least three minutes," says Kumar.
Last year, the club conducted one of the most difficult operations of the past decade when a part of the Ghazipur landfill collapsed, sweeping several people on the road into a canal. Two people were killed. "It took us two hours to fish out their bodies because so much trash from the mountain had filled the deep canal," says Javed. "We were all dripping thick black filth as we brought out the bodies," he says.
Kumar says his men are on call 24X7, which means they have to rush out even in the dead of night—sometimes in their jeep with boats hitched to it. "We cannot row to every place on the Yamuna; there is hardly any water in the river at many spots," says Kumar. "We love the monsoon; it is the only time when the Yamuna actually looks like a river, when we feel like the men of the river. "
The Bawana canal in outer Delhi that flows from Haryana, the divers say, becomes a watery grave for many people–about 50–every year. "It is about 10- foot deep and the current is strong. Those who fall into it have little chances of survival. Bodies are often swept 7-8km. So, it takes a lot of time–two hours to two days–to find bodies in this canal. At most other places, we need only 10 minutes to conduct a rescue operation or fish out a body," says Kumar.
Then they get a lot of calls related to suicide attempts. Earlier this week, they got a call at 9.20pm to rescue a woman who had jumped into the Bawana canal. "When we reached, we found the woman was holding on to a tree on the edge of the canal. She had apparently changed her mind at the last moment," says Naeem, who rescued her. "But more men than women attempt suicide by jumping into the Yamuna, and the reasons, more often than not, are financial woes."
At times, the Boat Club, says Kumar, also gets prank calls. "Once, we got a call that a girl had committed suicide in the Yamuna near ITO, leaving her car on the bridge. We searched for her body for two days but could not find it. On the third day, the police found out that the car was indeed hers, but she was staying comfortably at her friend's house in south Delhi."
Interestingly, most of these divers are from Jagatpur, a riverside village upstream of Wazirabad. "The water in our village is relatively cleaner and we grew up swimming. So, we take to our jobs like ducks to water," says Naeem "We have doubled the number of divers in the past one year. The Boat Club, the only agency in Delhi that specialises in search and rescue in water, is an important part of disaster management in the city," says Ajay Kumar, ADM, East, and Shahdara district. "In Delhi, no one knows the Yamuna quite like them."
."
Close Story