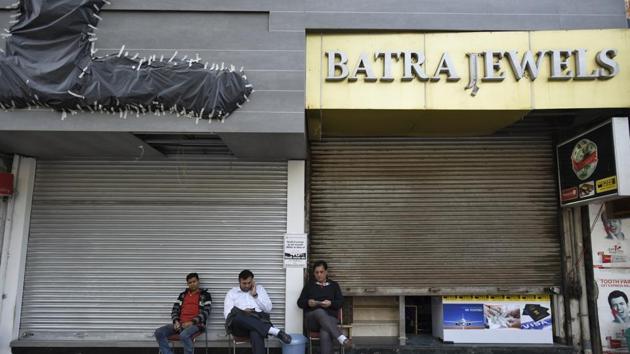 Delhi traders to organise mega rally to protest against sealing drive in the city
Market associations of Greater Kailash, South Extension, Defence Colony, Green Park, Green Park Extension and Chandni Chowk will take part in the rally with a demand that the government must immediately bring a bill in Parliament to stop sealing
PUBLISHED ON FEB 14, 2018 11:33 PM IST
New Delhi: Traders associations have announced to hold a mega rally from Red Fort to Ghanta Ghar on Thursday to protest the ongoing sealing drive in the city.
Market associations of Greater Kailash, South Extension, Defence Colony, Green Park, Green Park Extension and Chandni Chowk will take part in the rally with a demand that the government must immediately bring a bill in Parliament to stop sealing.
The rally has been organised by the Confederation of All India Traders that claims to have 2,200 market associations as its members. "It will witness participation by thousands of traders and workers, who have become jobless after the sealing of shops," said CAIT secretary general Praveen Khandelwal.
"Unfortunately, without realising the ground realties sealing operations are being intensified in the city. We are not even given the opportunity to present our cases. This has forced the traders to intensify their agitation," said Khandelwal.
On Wednesday, hundred of traders staged a demonstration outside the Municipal Corporation's headquarter at Civic Centre while observing the day as " My Valentine-My Shop". The protesting traders were covering their mouth with black strips and holding placards.
The Chamber of Trade and Industries, another traders' organisation with 400 traders associations as its members, has also announced to protest with begging bowls from February 16-25, on Wednesday. "The traders will gather outside the residence of seven Delhi MPs everyday. And on February 25, we will gather outside Prime Minister's residence, begging him to save our shops and trades," said Brijesh Goel, convener of CAIT.
Traders are at loggerheads with RWAs over sealing. While the resident associations have opposed the proposed amendments in Delhi Master Plan 2021, traders alleged that the sealing has affected their bread and butter.
"I have been running the shop in basement for decades and all of sudden it was sealed with an explanation that no commercial activity is allowed in the basement. It's been more than one month since my shop is sealed and I don't know how to run my house expenses now. There are people who were running the shops on rent of Rs 1 lakh (per month) and they are planning to shift now," said Jagdish Gupta, secretary of Defence Colony Market Association.
Close