Enthusiasm masks pollution as Delhi runs half marathon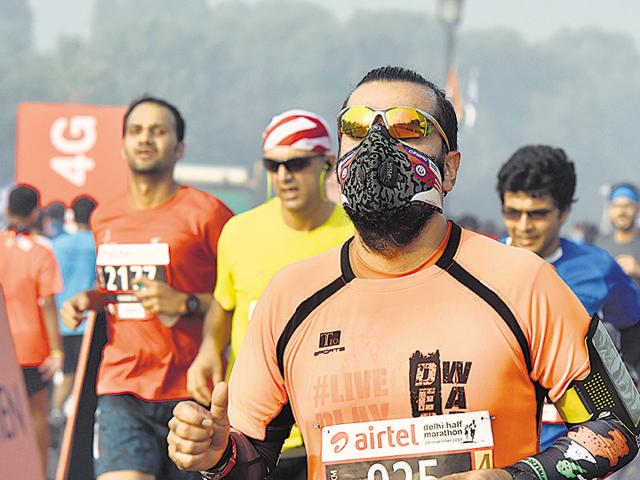 Updated on Nov 21, 2016 11:57 AM IST
Thirty five-year-old Shikhar Sharma was worried whether he would be able to complete his 21-kilometre run at Jawaharlal Nehru Stadium on Sunday.
He has been preparing for the Airtel Delhi Half Marathon (ADHM) for over six months. But, for two weeks, before the race, he could not practice like he wanted to.
The spike in the pollution had kept him home.
"I don't know how I finished the race. It is an achievement for me. Though I was pretty happy with my practice till October, I could not go out and run when pollution levels shot up," said Sharma. He said he finished the race 12.5 minutes slower than usual.
Though he could not run outside, he kept up practice by cycling and running on a treadmill in his gym. However, it did not help much, Sharma said.
Many among the 12,000 participants at Sunday's half marathon were seen running wearing masks, at least for the first lap, to protect from the infamous Delhi air.
"Wearing a mask throughout the run is slightly uncomfortable because your breath cycle is not in your control. As you sweat, it gets drenched and gives off a weird stench. I wore a mask for the first five minutes to warm up," said 24-year-old architect, Saudamini Srinivasan.
Runners also wrote to the event organisers, requesting them to postpone the run because of the unhealthy levels of pollution.
This raised a red flag among the organisers, who claimed to have kept a close watch on pollution for the last fortnight.
Before the marathon, medical director of the race, Tomorish Kole, told HT it would be unhealthy to run on Sunday due. He advised advised participants with lung and cardiac problems to give it a miss.
The organisers also sent out mails to the registered participants last week, saying, "...due to air pollution being at its peak for the last few days, it is advisable for all participants to seek medical advice and wear protective gear as best advised to them."
Though the levels of particulate matter in a cubic meter air in Delhi were lower on Sunday compared to the first week of November, it was still almost six times the prescribed standards. A hazy layer of smog had enveloped the air as the runners prepared to start the race in the morning.
Dr GC Khilnani, professor, department of pulmonary medicine, All India Institute of Medical Sciences (AIIMS), said running increases toxic pollutants inhaled.
"When you exercise, you breathe faster and deeper. This leads to people inhaling more volumes of minute pollutants, which get lodged in the lungs. It is not advisable to run, especially in the early mornings and late evenings, when the level of pollutants in the air is at its highest," he said.
The air quality seemed to affect runners who were not from Delhi a little more than it did residents.
"I had heard a lot about the Capital's pollution. Today, I could feel it. After a while I could literally feel my eyes burning. But all is well when the race is over," said Mithun Pratap, a runner from Chandigarh.
Last week, the Delhi High Court told the government to issue a health advisory, warning people of the dangers of running the half marathon. The bench said, "...if someone can run in Delhi, they can run anywhere."
Close Story