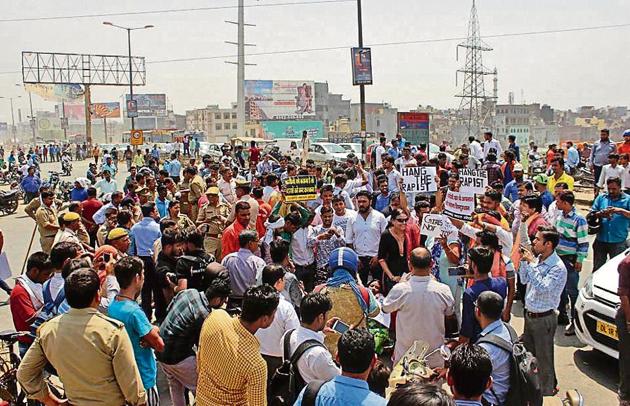 Ghaziabad madrasa where minor was raped closed, did not have permission
The building had come under scanner after Delhi Police conducted a raid on April 22 and rescued a 10-year-old girl, who was allegedly abducted and raped.
PUBLISHED ON MAY 02, 2018 08:05 AM IST
A madrasa, which was running in a locality under Sahibabad police station, was shut on Tuesday, officials of the district minority welfare department said.
The building had come under the scanner after the Delhi Police conducted a raid on April 22 and rescued a 10-year-old girl, who was allegedly abducted and raped.
Following the rescue of the minor girl, the Delhi Police apprehended a teenage boy on charges of rape and also under the provisions of the Protection of Children from Sexual Offences Act (POCSO).
The cleric operating the madrasa was also arrested and booked under the provisions of POCSO Act.
"Last week, we had conducted an inspection of the building and sought documents pertaining to it from the members of the registered society, under which the madrasa was operating. The society is an NGO. On Tuesday, the members of the society pulled down the board and the loudspeakers from the building. The premises was not registered as a madrasa and did not have the permission to operate as one," Sonu Kumar, district minority welfare officer, Ghaziabad, said.
"For operating a madrasa , there are norms to be fulfilled pertaining to teachers, number of students, area and syllabus, among others. Above all, no permission was obtained from the department to operate it. The members had put up a board, calling the building a madrasa ," he said.
The building also housed four or five minor boys from Bihar, who were being educated by the cleric. The officials said that the children will now be sent back to their homes.
In Ghaziabad, the officer said, there are nearly 130 madrasas operating and adhering to required norms and permission.
Until April 19, the girl and her family resided at a rented house near the cleric's house. However, they shifted to Delhi. On April 21, she went missing from her new residence in Delhi and was traced by the police to the madrasa in Ghaziabad.
After the cleric was arrested by the Delhi Police, some locals and members of an outfit had vandalised his house, which is located near the madrasa. After the vandalising incident, the police had filed an FIR and arrested five persons, after booking them under stringent sections of IPC.
Close