In Delhi sewer, three deaths in just seven minutes but not one cry for help
Three labourers died in south Delhi's Lajpat Nagar on Sunday after inhaling poisonous fumes from a sewer drain they had entered to clean without any safety gear.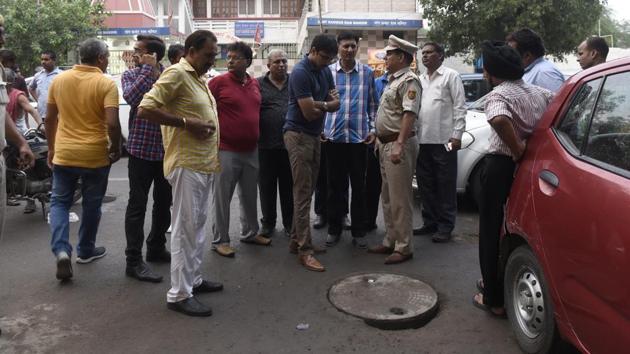 Updated on Aug 07, 2017 07:46 AM IST
New Delhi, Hindustan Times |
Shiv Sunny
Three men died of asphyxiation, one after the another, inside a sewer manhole in Lajpat Nagar on Sunday afternoon.
The incident played out for just around five to seven minutes, with no one even getting to hear a single cry of help from the victims from inside the sewer.
Vishnu Mandal, a mason working near the accident site, was among the first responders. "I heard the labourers shouting frantically to someone trapped inside the manhole. I rushed to see what was wrong," said Mandal.
"When I peeped inside, one man was lying motionless. He was already dead, but his friend wanted to help him and jumped inside. Within seconds, the second man too began suffocating and throwing his limbs around," recounted Mandal while speaking to Hindustan Times.
But that, he said, did not stop a third person from entering the manhole to attempt a rescue. By then, he claimed, a small crowd had gathered at the scene. One member of the crowd arranged a rope and insisted that the third labourer enter the manhole only after tying himself with it before entering the death trap.
"But this man did not want to waste time and entered the manhole by just holding on to the rope with his hand. Within seconds of entering, he began losing consciousness. I remember him trying to catch hold of one of the dead victims before passing out," Mandal recounted.
When a fourth labourer volunteered to attempt a rescue, locals refused to let him enter the manhole without tying himself to a rope. Mandal said that the man kept insisting that he had prior experience in such rescues and did not need the rope, but the public did not let him in without ensuring his safety.
The decision helped save the fourth man's life as he was pulled out to safety soon after he too began losing consciousness inside. The man is now out of danger, said Romil Baaniya, DCP (southeast).
The police, meanwhile, have decided to book the contractor under stringent Indian Penal Code Section 304 (culpable homicide not amounting to murder) which can draw a jail term of up to 10 years.
A similar incident, which had taken place three weeks ago in south Delhi's Ghitorni, had seen police imposing the same IPC section.
DCP Baaniya said that the contractor in Sunday's case too is likely to be arrested if evidence suggests he was at fault. "It appears that due precautions was not followed," said DCP Baaniya.
Close Story
Personalise your news feed. Follow trending topics