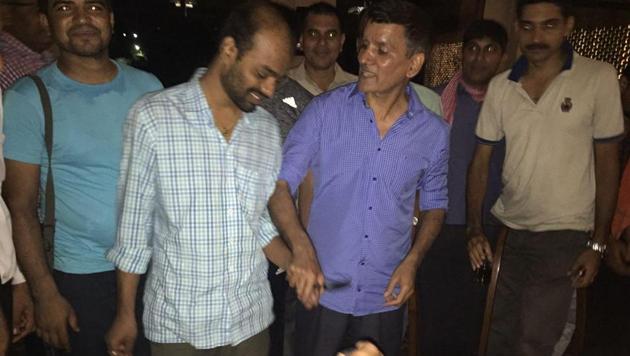 Ola driver who kidnapped Delhi doctor for Rs 5 cr ransom made torture video
Dr Srikanth Goud's family members were sent torture videos by the kidnappers to make them pay a ransom of Rs 5 crore. The police officials cut a cake for Dr Goud after he returned home on Wednesday.
Hindustan Times | By Ananya Bhardwaj and S Raju
UPDATED ON JUL 20, 2017 02:00 PM IST
A few days after a Delhi doctor's kidnapping, his family received a chilling video. It showed the 29-year-old chained to a chair, tortured and begging for water.
The videos kept pouring in till the doctor was finally rescued on Wednesday evening from Meerut. Police say the videos were being used as a ploy to scare the family of Dr Srikanth Goud and make them cough up a ransom of Rs 5 crore.
On Wednesday, the police engaged in a brief shoot-out with the kidnappers at their Meerut hide out and when they finally found Dr Goud, he was reportedly in a state of shock. Kidnapped on the night of July 6, the doctor, it seemed, had lost hope of being rescued after 12 days in captivity.
A senior UP police official said that the kidnappers managed to dodge attention by dressing up as kanwariyas. An investigating officer, who was part of the team that rescued Dr Goud, told Hindustan Times that the kidnappers had turned aggressive when some reports about the doctor surfaced on social media. "In Delhi, we had requested all journalists but we could not stop local channels in Telangana, where the doctor belongs. We requested family members not to talk to press during the ongoing operation," a senior police officer said.
Srikanth Goud, who is from Gadwal in Telangana, was abducted from east Delhi's Preet Vihar on July 6, by a west UP gang, including an Ola cab driver, who was from the region. Dr Goud, who works in Metro hospital in east Delhi's Preet Vihar, had booked the Ola cab to go to south Delhi, after he missed a Metro.
The kidnappers had first called Ola call center demanding a ransom of Rs 5 crore to release the passenger. The abductors told the cab aggregator that the incident will tarnish the image of the company and they should pay the ransom if they wanted the matter to be kept under the wraps.
The cab company contacted the police and shared details of the driver along with the registration number of the car. On Wednesday evening, the doctor was rescued and four kidnappers arrested, while four others managed to flee.
Police said that while it appears that Dr Goud was fed, they are not certain if he was kept in harsh conditions. "He appeared weak and in a state of shock when he was rescued. He has now been asked to take rest and will also be given counselling," a police officer said.
Late Wednesday evening, after doctor returned home, senior police officers held a cake cutting ceremony for the doctor.
Close