Pollution in Delhi: Harsh Vardhan says air quality improving, fewer 'very poor' days this year
Updated on Aug 01, 2017 12:20 PM IST
Union minister Harsh Vardhan said the government is taking several steps to improve air quality in Delhi. Days with 'very poor' air quality have come down from 52 in 2016 to 36 in 2017 and the city has not seen a 'bad' air quality day since June 15.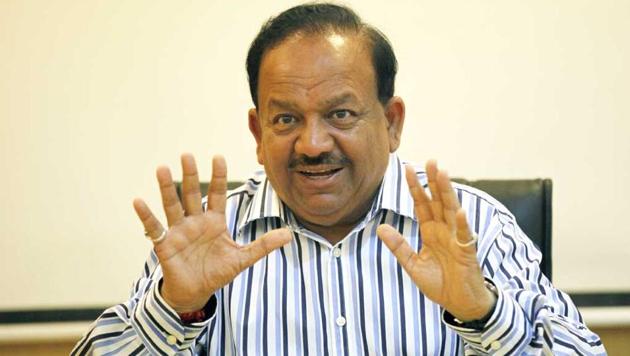 Delhi's air quality is gradually improving compared to what it was in the first half of 2016, Union environment minister Harsh Vardhan said in the Rajya Sabha on Monday.
The minister said that according to the city's Air Quality Index data for 2017, the national capital didn't experience a single day with severe level of air pollution this year. However between January and June in 2016 Delhi witnessed nine days with severely poor air quality.
Check Delhi's air quality here
"Moderate days have gone up from 29 days in 2016 to 56 days in 2017. Very poor days have reduced from 52 in 2016 to 36 during 2017," he said replying to questions.
Experts said that Delhi's pollution level, particularly particulate matter, depends on a number of factors. When conditions become unfavourable, the quality deteriorates.
"The geographical position of the city is such that several factors including meteorological factors and pollution levels in other adjoining states play a major role in determining the city's pollution level. It fluctuates and shoots up occasionally. When conditions are favourable the pollution level drops. Over the past few months it is improving," said D Saha head of the air quality laboratory at the Central Pollution Control Board.
The air quality has not seen a "bad" air day since June 15. According to Saha, this is because of meteorological conditions like wind speed and rain in the city and the neighbouring states.
Pollution monitors in Delhi may not be showing the full picture on air quality
Vardhan also told the Rajya Sabha that the government is working towards creating a voluntary movement to tackle the problem.
"We are preparing a list of good deeds that people can take up to curb pollution," the minister said. He also said the effort of any person doing at least one good task that helps in curbing pollution will be encouraged.
"People cannot be forced to take to cycling or any other practice but healthy activities can be encouraged. The government will try to create a people's movement," he added.
He said efforts of the country in fighting pollution and climate change have been appreciated globally.
He also spoke in detail about the efforts of various ministries including promotion of electric vehicles, improving petrol, gasoline quality on the pollution front.
In fact, due to a good monsoon across north India this year, there have been no "bad air" quality days since June 15. "There has been good rain across Delhi and its neighbouring areas. Because of this, long range transport of pollutants from outside Delhi is minimal and thereby there has been no bad air quality since June 15," a Central Pollution Control Board official said.
Personalise your news feed. Follow trending topics