Special light scheme to enhance structural details of Qutub Minar
Sep 04, 2018 09:44 AM IST
The new illumination, similar to the ones installed at Red Fort, will spruce up the Qutub Minar complex enabling visitors a detailed view of its opulent architecture, calligraphic verses, corbels, and intricate carving even at night.
Walking through the 12th century Qutub Minar complex after sunset will soon be a better experience with the Archaeological Survey of India (ASI) deciding to replace façade lamps at the minaret with 'architectural lights'.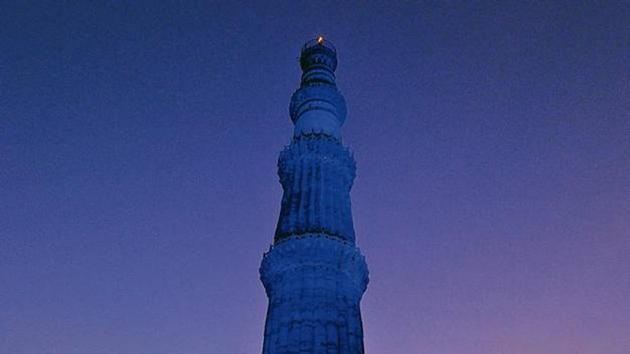 The new illumination, similar to the ones installed at Red Fort, will spruce up the Minar complex enabling visitors a detailed view of its opulent architecture, calligraphic verses, corbels, and intricate carving even at night.
Stay tuned with breaking news on HT Channel on Facebook.
Join Now
The 73-metre-tall tapering tower having five storeys, built by Shams-ud-Din Altamash, the Sultan of the Mamluk dynasty that had roots in Turkey, is the highest brick structure in India.
Hollow from within, it has circular staircase with 378 steps.
The first Sultan of the city, Qutub-ud-Din Aibak laid the foundation of the Minar in 1193 AD, possibly as a tower of victory but also as a minaret attached to the Quwwatul Islam mosque located next to it.
"Aibak had perhaps only succeeded in raising the first storey, the remaining storeys being eventually completed by his successor Altamash," says a guide book on Delhi's monuments by ASI.
The ASI has engaged the National Buildings Construction Corporation (NBCC) to carry out the replacement of lights, for which the design is being prepared.
In the next three-four months, Qutub Minar will become the second world heritage site in the national Capital to have state-of-the-art illumination after Red Fort.
"Our historic buildings look weak in comparison to such sites abroad as they are beautifully illuminated. Architectural lights at Qutub Minar will enhance its aesthetic and will attract more tourists. Next in line is Safdarjung Tomb," said Mahesh Sharma, Union minister for Culture.
Façade lighting is a simple arrangement to illuminate historical structures in which lights are directed at the frontages or surfaces to be highlighted.
Architectural lighting also known as element illumination is programming based technique in which beams of light are cast on components such as domes, ramparts, minarets, arches, and balconies, from different angles to highlight their architectural details.
"More importantly, under architectural lightings plan, lamps are not fixed on the surface of the structure but are kept or placed at strategic points. This does not damage the building. For architectural illumination, energy efficient LED lamps are used, which reduce power consumption significantly," said a senior official of ASI, which is the national custodian and watchdog of heritage monuments in India.
At present, the Qutub Minar complex remains open till 10pm for night viewing, however no other monument is lit up except the minaret.
The campus has several prominent edifices, including the tombs of Altamash and Ala-ud-Din Khilji and two mosques. The lights are switched off at 10.30pm.
Under the new lighting project, features of three more structures—Alai Darwaza, Alai Minar, and Quwwatul Islam mosque, will be embellished with LED lights.
"However, we will not allow tourists to go near or enter other structures to be illuminated as part of the plan. It may take three-four months to complete the project," said the official, who is familiar with the matter.
Facade lights at several ASI and state archaeology department protected historical structures such as Feroz Shah Kotla, Purana Qila, Safdarjung Tomb, Gol Gumbad, Mutiny Memorial, and Quli Khan's tomb were installed in the run up to the Commonwealth Games in 2010. However, Qutub Minar was provided with ultraviolet protective bulbs in May 2005.
"Elements illumination will enhance the Minar's aesthetics by exposing beautifully inscribed calligraphy and other decorative features such as corbels, flanges, and balconies. People travelling towards Mehrauli will also be able to appreciate the monument from a distance," said an official of the NBCC.
The state-run real estate developer, NBCC, has also planned a slew of measures at Qutub Minar complex to facilitate visitors such as a pedestrian underpass connecting parking lot and the monument complex, pathways, ramps for sightseers with special need, and an information cum interpretation centre.
"We will install new water kiosks, built cloak rooms, souvenir shops, and redevelop toilet, and parking facilities. Pathways will be re-laid and benches are planned for the comfort of the tourist. These measures are crucial to promote our heritage," said Anoop Kumar Mittal, chairman and managing director (CMD), NBCC.
Usha Sharma, director general, ASI, said light swapping project is part of ASI's ongoing restoration and preservation of city's monuments for which ₹140 crores have already been earmarked.
"Safdarjung's tomb will be next after Qutub Minar. The ASI will also take up illumination of several protected sites and historic structures across the country, including Man Mahal (Banaras), Aga Khan Palace (Pune), and Metcalf Hall (Kolkata)," she said.