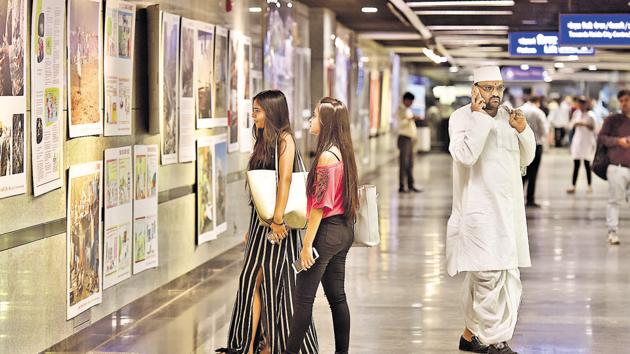 The new Underground Delhi: Art, travel, food — all by the Metro
Metro stations in the Capital are no longer plain, whitewashed structures. They have become slicker and are turning into hot destinations for food, drinks, meets, art, literature — and even a date
UPDATED ON APR 03, 2018 09:10 PM IST
For Binod Mairta, a writer, the history of Delhi can be divided into two periods: pre-Metro and post-Metro. "Delhi was a highly staid and stratified city; it did not have the chemistry of a metropolis. But Metro changed that," says Mairta, whose book, A Rose on The Platform, explores the role Metro plays in the matters of the heart. "Metro is the only transport mode where you can find someone from a lower middle-class neighbourhood in east Delhi travelling with someone from an elite south Delhi neighbourhood. The new metro stations look like airport terminals, greatly adding to the experience of the city."
Since its inception in 2002, Delhi Metro has come a long way – not just in terms of its reach in the sprawling city, but how its stations look and feel — and the role they play in the lives of Delhiites. Many stations on the newly opened sections of Pink and Magenta lines such as new Netaji Subhash Place and Kalkaji Mandir boast of sleek, sophisticated interiors: baffle ceilings with an interesting play of LED lights; marbled walls with dozens of artworks; granite floors; designer panels on trackside walls.
If Netaji Subhash Place station looks like a modern airport terminal, the new Azadpur station, with its high- ceiling and massive fans, exudes an old-world charm. And today, people go to the city's slick subterranean spaces, that also boast high-end food and retail outlets, not just for their daily commute, but also to eat, drink, shop and socialise.
"When I took a ride with my father on the inaugural day in 2002, the stations were bare whitewashed brick structures. Now many new underground stations are fine examples of interior urbanism. They have emerged as vibrant public spaces," says Aditya Gupta, 29, an architect ,as he admires artworks inside the newly opened Netaji Subhash Park station. Hundreds of works of over 48 artists — both upcoming and experienced — adorn the stations on the Pink and Magenta lines. Artists say many Delhi metro station concourses are like vast art galleries.
"Thousands of people can view your work in hours, which is not possible in a conventional art space. Nothing excites an artist more than the sight of people viewing her art," says Renu Sharma, a mosaic artist, whose work will be displayed in the soon-to-be-opened Chirag Delhi, Munirika and Vasant Vihar stations. "While functionality and legibility continue to be our primary concerns, we now also focus on the aesthetics of the stations. We are creating stations with a contemporary look." says Anuj Dayal, chief spokesperson, Delhi Metro.
Art in transit
Metro's brush with art began in right earnest with the Mandi House station when the Mandi House-Janpath-Central Secretariat section on Line 6 opened in 2014. It has since engaged various organisations such as INTACH, ICHR , and India Habitat Centre (IHC) to promote artworks at various stations. Most stations opened in the past three years have paintings, sculptures or installations. "Over the years we realised Metro can also be a vehicle to promote art and culture. We invite entries from artists to display their work at the stations," says Dayal.
Metro has collaborated with India Habitat Centre for regular exhibitions at Mandi House and Jor Bagh stations which have dedicated exhibition space under the 'Art in the Metro' initiative. The ongoing exhibition at Mandi House, titled , 'The City of Waste' has on display 42 photographs by six French researchers, exploring the role of waste workers in society. "Over the past two years, we have displayed everything from graphic novels to paintings to photographs. We showcase art that is immediate and has a strong cultural significance," says Alka Pande, curator, Visual Arts Gallery at IHC, which is responsible for putting up exhibitions at the two stations. "Our aim is to bring aesthetics to everyday commute."
Art in Metro at Mandi House, which has an average daily footfall of about 1.9 lakh, seems to be a hit with commuters-- one can see people stopping and looking intently at exhibits throughout the day. "The new metro stations provide the right ambiance for people to engage with art," says Manish Sharma, a graphic designer and painter. "Many people find it intimidating or don't have the time to visit an art gallery; the Metro, which sees a huge rush of people from diverse backgrounds, is a perfect place to democratise art."
He believes Delhi Metro is beginning to rival the Stockholm subway system -- often referred to as 'the world's longest art gallery' with stations on the 110km network displaying thousands of sculptures, mosaics, paintings, installations, engravings, and reliefs by over 150 artists.
Metro social
For many Delhiites, delightful, air-conditioned stations are also whole new unique public spaces that give them a break from the malls. Thousands of them come to metro stations such as Connaught Place to catch up with friends and family—an interesting example of how socialising can become part of the traveling experience. "Underground metro stations have a charm and energy of their own. I often meet my aunts who live in Paschim Vihar at the Rajiv Chowk station over coffee. Metro is one place where women can feel safe in the city," says Nidhi Khanna, 23, who lives in Noida. Sitting a few seats away from her at a cafe at the Rajiv Chowk station is Rohit Wadhwa, 22, waiting for a friend. "I love to watch people waiting, meeting, getting in and out of the trains. I met my girlfriend here at Rajiv Chowk," says Wadhwa. "At times, the two of us just take a long ride in the train. It's cool and comfortable, and people look at you just as commuters."
In fact, meeting cupid on Delhi Metro is no longer a distant possibility. According to the findings of 'Train Of Love survey' conducted a few years back by MetroMates, a dating website, a lot of Delhiites are looking to forge not just friendships, but also find love in the Metro. Asked if you have ever made friends or had a date with your fellow travelers, 23% of the respondents said 'yes'. And to a question if Delhi Metro is good for finding new friends, date or love, 51% respondents said that the Metro is 'good' for finding new friends; 26% said that it is good for finding a date and 23% felt the Metro is good enough for finding love too.
A muse for writers
No wonder then Metro has become a muse for many writers, who are penning many transit love stories. "I was always fascinated by the possibilities Metro provides to young men and women to know each other and fall in love," says Pratyush Sinha, author of Love in Metro: story of love & ego. "I wanted to explore what happens when young men and women travel everyday in the same space, at the same time in such close proximity, without attracting too much attention," says Sinha, who is writing another love story set in the Delhi Metro.
Every writer has his own favourite stations -- Mairta refers to Kashmere Gate as 'Alpha and Omega of Metro life.' "It's so majestic; its four perpendicular lines running at different levels are like vessels carrying blood," he says. One of the reasons he likes Kashmere Gate is because it boasts of bookshops set up by the Sahitya Akademi and the National Book Trust.
Opened in 2016, Sahitya Akademi Metro Bookshop at Kashmere Gate has black and white pictures of Indian literary greats such as Toru Dutt, Devaki Nandan Khatri and Nagarjun. The teakwood shelves are stacked with hundreds of titles in over two dozen Indian languages, and the tastefully done interiors are illuminated by soft, low-hanging lights. The bookshop also has a club for Metro commuters. "Many people ask for Chetan Bhagat's books. But, thankfully, we also get a lot of people who appreciate serious literature that we sell," says Darwan Singh, who manages the shop.
A foodie's paradise
Not just restaurants, food kiosks, and bookshops, stations such as Nehru Place and Dhaula Kuan have food malls and food courts. Nehru Place is home to Epicuria, Delhi's first 'food mall' with high-end bars, fine-dining restaurants that attract people from all over Delhi. "I often come here for business lunch. I get down from the train and go straight down to the basement, which has the interiors of a five-star hotel. No taxi, no auto, no traffic hassles," says Aman Sachdeva, a marketing manager with an MNC in Faridabad.
Last year, Dhaula Kuan became the latest food destination on Metro's map with the opening of a food court called Palate of Delhi, which boasts of many popular Indian and international fast food and quick-serving chains. "A lot of our customers are from Delhi cantonment and students from the south campus," says Krishan Kant, a manager at the food court, which has an American highway-style drive-in and drive-out pizza outlet.
Abhimanyu Dalal, a well-known architect, says Metro stations have evolved over the years in terms of architecture, interiors, and social space. At the same time, he feels Metro needs to focus more on the exteriors of the elevated stations and should have more sitting benches. "Elevated stations need to be better designed; they are like visual clutter on the cityscape. Besides, stations need to be better integrated with the city and there has to be continuity in terms of where lifts, footpath, and stairs are placed," says Dalal.
"There are budget issues, but we are beginning to focus on the exterior,too. Many of our new elevated stations such as Sukhdev Vihar have a different look."
The Metro stations that you must be on your itinerary this summer
THE ARTS STOPS
Mandi House (Regular art exhibitions)
Metro has collaborated with IHC for displaying art at the new Mandi House and Jorbagh stations that have dedicated panels for art exhibitions under 'Art in the Metro' initiative. Both the stations have regular exhibitions curated by India Habitat Centre. The ongoing exhibition at Mandi House is titled The City of Waste, which has on display 42 photographs by six French researchers, exploring the role of waste workers in society.
INA (Art & crafts gallery)
The station has a crafts gallery with over 58 panels displaying paintings and handloom by national award-winning painters, craftsmen and artists from all over the country. The exhibits include Mithila paintings from Bihar, terracotta tiles from Rajasthan, Tanjore paintings from Tamil Nadu, fine straw work from Kerala and pithora painting from Gujarat.
Lok Kalyan Marg (A crafts map gallery)
The station is home to a unique gallery of craft maps, such as a shawl map of Srinagar, and a map made entirely out of terracotta stars. There are 48 craft maps covering all Indian states. Conceptualized by Dastkari Haat Samiti, a national association of Indian crafts people, the maps also give information about the haats, art hubs and festivals of each state.
THE MUSEUM STOPS
Patel Chowk (Metro museum)
The Delhi Metro Museum at the Patel Chowk Metro Station showcases the genesis and history of the Delhi Metro, covering its all major milestones. Possibly the only museum in a functional Metro station worldwide, it has a rich display of photographs and models of the metro train, stations, etc; there are interactive pods that show videos and films on many technical aspects such as the working of the tunnel boring machines and segment launchers.
Udyog Bhawan Metro station (A museum replica corner)
The National Museum has set up a Museum Replica Corner and 11 displays at the Udyog Bhawan Metro station. These displays provide a glimpse into the precious collections of the National Museum and other art-related activities. The idea behind the initiative is to direct commuters to the National Museum, which is about a 5-minute walk from the Udyog Bhavan station.
THE LITERARY STOP
Kashmere Gate (Bookshops)
The station has well-stocked bookstores, one each by National Book Trust and The Sahitya Akademi. The Akademi bookstore, opened in 2016, called Sahitya Akademi Metro Bookshop, has hundreds of titles in over two dozen Indian languages. The shop has tastefully done interiors with have black and white pictures of Indian literary greats such as Toru Dutt, Devaki Nandan Khatri and Nagarjun, adorning the walls.
THE FOOD STOP
Nehru Place Metro Station (Eating out joint)
It is home to the Epicuria, perhaps Delhi's first food mall that offers high-end café, bars fine-dining restaurants that attract people from all over Delhi. It a perfect place to connect with friends with some awesome food and drinks.
Close