Two months after anti-encroachment drive, Delhi roads are choked again
Updated on Jul 11, 2018 11:42 PM IST
At seven stretches in Delhi where spot checks were carried out, the pavements had been reoccupied by hawkers and cars were parked illegally, blocking the flow of traffic.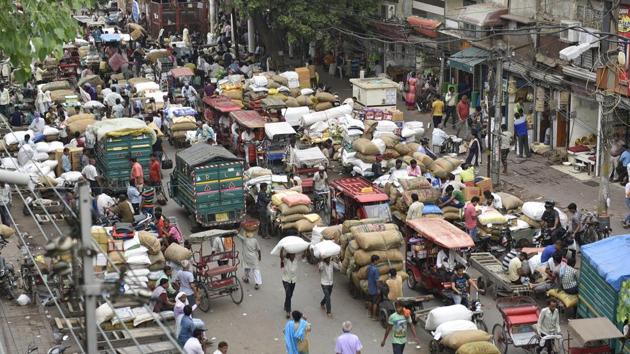 Hindustan Times, New Delhi |
Vibha Sharma and Soumya Pillai
Two months after a Special Task Force (STF) carried out a series of anti-encroachment drives in the national Capital on the orders of the Supreme Court, squatters and illegally parked cars are back on roads that had been marked out by the committee as the most problematic.
At all seven stretches where spot checks were carried out by HT on Wednesday — Uttam Nagar, Dabri, Vikas Marg, Sri Aurobindo Marg (Yusuf Sarai), RK Puram, Ma Anandmayee Marg and Baba Fateh Singh Marg (Govindpuri) — the pavements had been reoccupied by hawkers and cars were parked illegally, blocking the flow of traffic.
When confronted with these findings, vice-chairperson of the Delhi Development (DDA) Udai Pratap Singh, who also heads the STF, said that stopping encroachers from returning will have to be an ongoing process.
"There are clear directions to the enforcement agencies to revisit areas to ensure that the encroachers do not return. This will have to be a continuous process. Repeat offenders will be slapped with hefty fines, and their goods can be seized for longer durations," Singh said. At the same time, however, he said that the top court had ordered authorised vendors cannot be removed in these drives. "...There is also a possibility that these roadside vendors have permits."
Most of the hawkers spotted by HT were not permanent vendors and had set up temporary stalls. At the Fateh Singh Marg in Govindpuri, for example, portions of several shops that were pulled down had been resurrected. There was also a problem of unlicensed parking attendants encouraging commuters to park on roads after the legal parking space had been saturated. In south Delhi's Yusuf Sarai Market, for example, though the pavements was cleared of illegal extensions, an entire lane of the main road was taken up by parked vehicles.
"The situation gets worse during evenings and also during weekends. There are days when vehicles are parked in two or three rows, which creates a traffic bottleneck lasting hours," said AK Gupta, a shop owner.
The South Delhi Municipal Corporation along with the Delhi Traffic Police and the New Delhi Municipal Council had carried out one of the city's biggest anti-encroachment drives in May. Teams had targeted restaurants and meat shops in the area, which had constructed permanent illegal structures such as stairways, ramps, kitchen space, and drainage lines. However, locals said that poor monitoring and lack of follow-ups had ensured that this had not acted as a deterrent. They said that just days after the drive, demolished portions had been rebuilt by the owners of these establishments.
The STF has scheduled its next meeting for July 13, and civic agencies have been ordered to submit their action report.
An SDMC official said it was difficult to contain encroachments because, for most vendors who returned to the old spots, it was a question of livelihood. "However, we can stop illegal parking and extensions made by shopkeepers with stricter enforcement. But for that, we need continuous drives and better coordination with police," he said, requesting anonymity.
Madhur Verma, Delhi Police spokesperson, said that continuous drives are being conducted to ensure that vendors do not return. "We will offer our force whenever the civic agencies need us and we have been doing that in the past as well," said Verma.
According to the latest data, 143 acres of public land was cleared of encroachment by the North Delhi Municipal Corporation and 1,877 vehicles were impounded by the agency. The south and east Delhi municipal corporations are yet to compile latest figures, officials said.
The last report submitted to the STF on June 29, shows that the four municipal agencies (north, south, and east Delhi municipal corporations and New Delhi Municipal Council) across the national Capital have cleared 1,165 kms of area and impounded 3,023 vehicles.
On the ground, however, little seems to have changed. Experts say that instead of sporadic drives, authorities should focus on finding a lasting solution. "We need to assign vending zones to all hawkers, so everyone knows what is legal and what is illegal. But authorities have failed to implement this crucial measure," said Rakesh Mehta, the former chief secretary of Delhi.
Topics
Personalise your news feed. Follow trending topics