Bhalswa landfill on fire, AAP govt alleges sabotage
Published on Apr 21, 2016 04:25 PM IST
According to reports, the fire emitting toxic smoke has been burning for the past week but it became bigger on Wednesday and Friday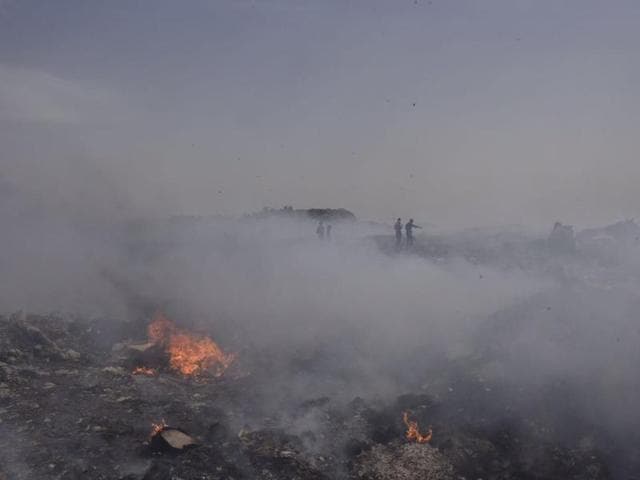 A massive fire raging at the Bhalswa landfill in north-west Delhi for a week has triggered a row with the AAP government crying sabotage to derail its odd-even car rationing experiment.
"Brazen attempt to fail OddEven by MCD. 3 landfills put on fire. DFS trying to contain the fire," tweeted a Delhi Government media advisor.
Delhi's landfills are managed by the BJP-run municipal corporations.
According to reports, the fire emitting toxic smoke has been burning for the past week but it became bigger on Wednesday and Friday.
Government officials alleged it had been set on fire to increase air pollution in Delhi and sabotage odd-even.
Delhi environment minister Imran Husain on Thursday visited the area amid the allegations.
Another Delhi government official's statement, however, went against the allegations of the fires being set deliberately.
Also read: Garbage burning undermines AAP govt's focus on reducing air pollution
"A number of complaints have been received from the public against the burning of garbage at landfill sites. It is an admitted fact by the municipal bodies that often burning of garbage is observed at landfill sites which is due to methane gas generation from the decomposition process of garbage," the statement said.
The Delhi Pollution Control Committee (DPCC) said that similar instances of fire were seen during inspections in May last year and in January and March this year.
At 2 pm on Thursday, the particulate matter 10 (PM 10) level at Punjabi Bagh – where the DPCC's air quality monitoring station closest to Bhalswa is located – was 504 micro grams per cubic metre. This was higher than any reading during the past 24 hours.
Open burning leads to an increase in PM 10 levels.
An increase in PM 10 levels was seen at most stations even though wind speed was good.
The DPCC said the three landfill sites in Delhi – Bhalswa, Ghazipur and Okhla – do not have any authorisation.
Also read: Methane trapped beneath makes Ghazipur landfill a ticking time bomb
"All three landfill sites are not designed as per the Municipal Solid Waste (MSW) Rules that came into effect in the year 2000. DPCC has not granted authorization to all three landfill sites. Municipal bodies have informed they have no other option but to use these sites for disposal of MSW as land is not available in Delhi. They have informed that request has been made to DDA to allot land for landfill sites," said a statement.
The DPCC had fined the east and north municipal corporations on February R 5,000 each for open burning of garbage. Notices were again issued in March.
Personalise your news feed. Follow trending topics