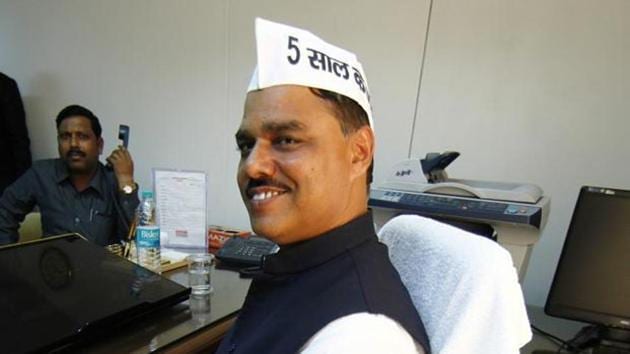 Bihar university cancels AAP MLA Jitender Singh Tomar's law degree
Tilka Manjhi Bhagalpur University (TMBU) on Monday cancelled the law degree of former Delhi Law Minister and AAP MLA Jitender Singh Tomar.
UPDATED ON MAR 20, 2017 10:50 PM IST
The TM Bhagalpur University (TMBU) senate, on Monday, approved by a unanimous voice vote cancellation of the law degree of former Delhi law minister Jitender Singh Tomar, which was earlier found to be 'fake'.
The senate approval has paved way for the issuance of a formal notification by university for cancellation of his degree, which was held to be fake and had allegedly been issued with the connivance of some employees of the university.
Earlier, the examination board and disciplinary committee of the university had given their consent for cancellation of Tomar's law degree. Even the Delhi police, in its inquiry conducted separately, had found that Tomar's law degree was fake.
Tomar was arrested by the Delhi police on June 9, 2015 in connection with the fake degree case. He had submitted his resignation to Delhi Chief Minister Arvind Kejriwal on the following day, just hours after a Delhi court remanded him to four-day police custody.
Tomar was enrolled in the law course at Vishwanath Singh Institute of Legal Sudies (VSILS) at Munger, which is an affiliated college of TMBU. In an inquiry conducted by the university last year, it was held that the law degree issued to Tomar was 'fake'.
The finding was conveyed to a Delhi court hearing a case in connection with Tomar's degree, through an affidavit filed on behalf of TMBU. Subsequently, the process for cancelling the 'tainted' degree had been initiated by the TMBU authorities.
The authorities had earlier stated that the approval of chancellor of the universities of Bihar, who is also Governor of the state, had also been sought.
But the office of the chancellor had intimated the university authorities that the chancellor's approval was not required for cancelling fellowships and degrees.
Considering the Tomar case had sullied the TMBU's image, senators participating in discussion at Monday's meeting called for stringent action against employees involved in issuing a 'fake' degree to Tomar. However, TMBU registrar Ashutosh Prasad said little could be done in the matter by the university as a Delhi court and the Delhi police were also seized with it.
The registrar said the findings of an internal enquiry conducted by the university in the Tomar case has been already shared with Delhi police.
Close