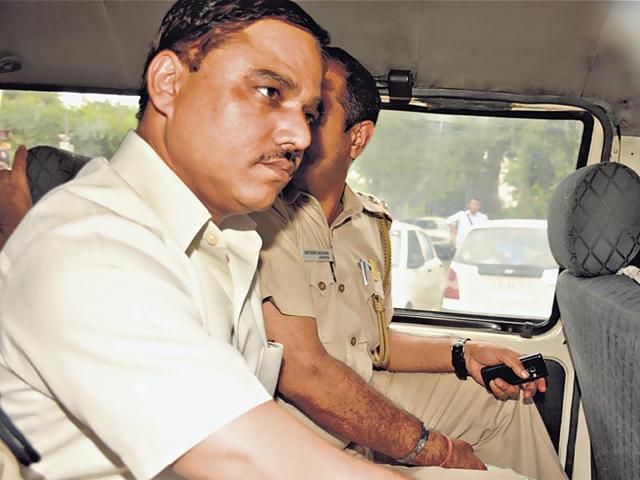 How law, 'duty-bound' cops caught up with Jitender Tomar
It took the police over a month to investigate the case against Delhi law minister Jitender Singh Tomar and make watertight grounds for the arrest.
Hindustan Times | By Satya Prakash and Ananya Bhardwaj
, New Delhi
UPDATED ON JUN 10, 2015 11:33 AM IST
It took the police over a month to investigate the case against Delhi law minister Jitender Singh Tomar and make watertight grounds for his arrest.
Tomar quit on Tuesday after being arrested for allegedly using fake degrees to enrol as an advocate, further souring the Centre's already strained ties with the AAP which called it an "Emergency-like situation".
The Tri Nagar legislator sent his resignation through his lawyer after being charged with cheating, forgery and criminal conspiracy.
Police were duty-bound to register an FIR, notwithstanding the AAP leader's allegations of political vendetta and witch-hunt against the BJP-led central government.
They were left with no choice after the Bar Council of Delhi requested them to probe the complaint of forged degrees against Tomar. If they had not acted upon the information shared with them by the bar council, it would have amounted to contempt of court.
The Supreme Court had in 2013 made it mandatory for police to register an FIR upon disclosure of commission of a cognisable offence.
The FIR against Tomar was registered on June 8 following a letter written by the Bar Council of Delhi secretary Puneet Mittal last month requesting the Delhi Police to conduct a detailed preliminary investigation with regard to Tomar's alleged forged documents and submit a report to it.
Watch |The four facts Delhi Police say nail law minister Tomar's lie
Cheating and forgery for cheating are cognizable offences attracting a maximum punishment of seven years in jail.
"Registration of a FIR is mandatory under Section 154 of the (Criminal Procedure) code, if the information discloses commission of a cognizable offence and no preliminary inquiry is permissible in such a situation," a constitution bench had said in November 2013.
Besides being contempt of court, any inaction on the part of Delhi Police would have resulted into action being taken against erring officers.
"A police officer cannot avoid his duty of registering offence if cognizable offence is disclosed. Action must be taken against erring officers who do not register the FIR if information received by him discloses a cognizable offence," the bench had said.
According to the police, Tomar's name was not found in the admission registrar of the college from where he claimed to have completed his B.Sc degree. Tomar had submitted a B.Sc degree along with mark sheets issued in his name on the letterhead of that college.
Also, the roll numbers mentioned in the B.Sc degree and mark sheets were nowhere found in the university or college records. "If he graduated from Awadh University, Faizabad, then his name should be there. The roll number mentioned in his mark sheets did not exist in the college records," police said.
As per police, the controller of examination of Awadh University said no B.Sc degree and mark sheets in the name of Tomar had been issued. "The letter from the controller confirmed that the certificates are fake," police said.
Apart from the B.Sc degree, the LLB degree that Tomar claimed to have completed from Tilkamanjhi University was reported fake. "The roll number mentioned in the provisional certificate of LLB was found to be allotted to another student, Sanjay Kumar Chaudhary, from a different stream in 1999. It is impossible for two students to have the same roll number," police said.
Also, the signatures of the controller of examination on the mark sheet of his law degree and provisional degree were found to be forged. "In his law college admission records, it has been shown that Tomar obtained the B.Sc degree from Awadh University whereas in the records of Tilakamanji University he has been shown to have been migrated from Bundelkhand University. Bundelkhand University has clarified it had not issued any such certificate to Tomar," police said.
Police said the registration number in the Tilakamanjhi University records was issued in Tomar's name in 2001 whereas in the LLB mark sheets of the first and second year, the registration number was from 1996 and 1997."Based on the inquiry of documents and reports obtained from Awadh University and Tilakamanji University, a case was registered and Tomar was asked to join the investigation and after his examination as per established procedure, he was arrested," police said.
Read:
Jitender Singh Tomar: Political journey of luck by chance to a degree
#ModiScaredOfArvind trends on Twitter after Jitender Tomar's arrest
Watch | Aam Aadmi Party's theory why law minister Jitender Singh Tomar has been arrested
Close