BJP tightens screws, asks Yeddyurappa to quit 'immediately'
Updated on Jul 28, 2011 04:38 PM IST
Embattled Karnataka chief minister BS Yeddyurappa was today asked to resign immediately by the BJP's top brass after it decided for a change in leadership in the state, a day after his severe indictment by the lokayukta in the illegal mining scam.Yeddyurappa bargains before resigning | BSY indicted | What Hegde's report says | BSY's rise and fall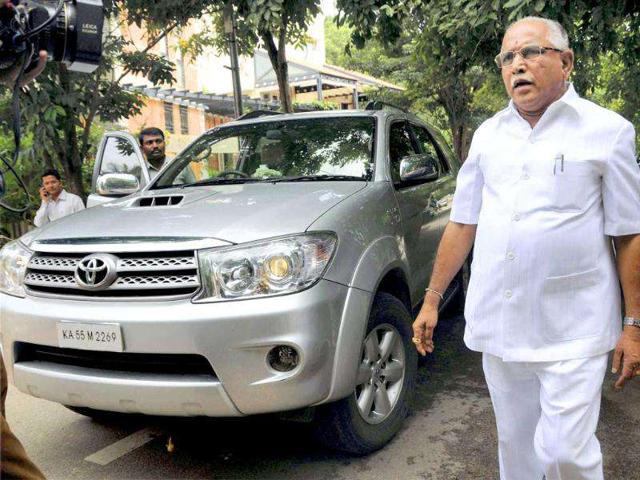 Embattled Karnataka chief minister BS Yeddyurappa was on Thursday asked to resign immediately by the BJP's top brass after it decided for a change in leadership in the state, a day after his severe indictment by the lokayukta in the illegal mining scam.
Ending the uncertainty over the fate of the 68-year-old Yeddyurappa who headed the BJP's first government in the south
"The BJP Parliamentary Board unanimously decided there has to be a change in the leadership of the BJP legislature party in the state of Karnataka. Accordingly, it has advised Yeddyurappa, the present chief minister, to tender his resignation immediately," spokesperson Ravishankar Prasad told reporters after a meeting of the board at the residence of the president Nitin Gadkari.
The Board, the party's highest decision making body, also decided to send senior leaders Rajnath Singh and Arun Jaitley as observers to Bangalore on Friday to oversee the election of Yeddyurappa's successor.
Yeddyurappa assumed office in May 2008.
"Tomorrow, Arun Jaitley and Rajnath Singh will go to Bangalore for the election of the new leader of the BJP legislature party," Prasad said.
The meeting was attended among others by LK Advani, Sushma Swaraj, Arun Jaitley, Rajnath Singh and Venkaiah Naidu.
BJP spokesperson Nirmala Seetharam said the Board's decision has been conveyed to Yeddyurappa and discounted suggestions of a possible rebellion in the Karnataka unit of the party.
Yeddyurappa has already informed Gadkari that he would abide by whatever decision taken by the party leadership, she said.
In Bangalore, some Ministers and MLAs have gathered at the Race Course residence of Yeddyurappa who returned to Bangalore on Thursday morning after parleys with the BJP leadership in New Delhi which went on till 2am.