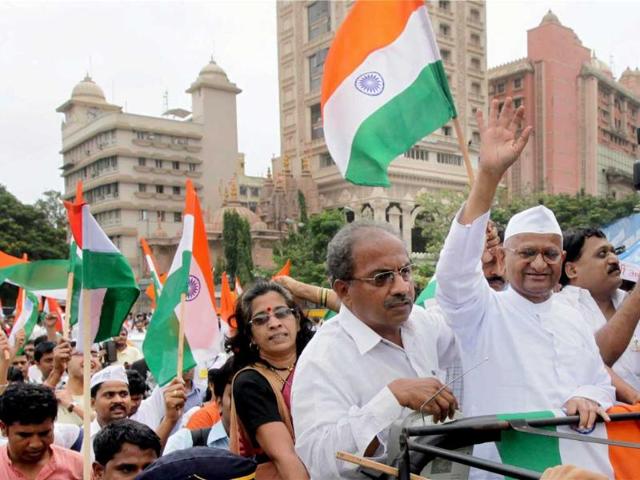 Court rejects plea for FIR against Anna, team
A Delhi court has refused to direct the Delhi Police to register an FIR against Anna Hazare and his team members for allegedly disrespecting the national flag during their anti-graft protest in August last year. Complaint against Hazare's team for insulting Tricolour
UPDATED ON FEB 09, 2012 01:11 PM IST
A Delhi court has refused to direct the Delhi Police to register an FIR against Anna Hazare and his team members for allegedly disrespecting the national flag during their anti-graft protest in August last year.

"In the complaint, nothing has been mentioned or submitted during arguments as to why FIR should be registered in the matter," metropolitan magistrate Anil Kumar said on a private complaint for registration of FIR against Team Anna.

"I am of the considered opinion that if the entire evidence is within the reach of the complainant and no cusodial interrogation or discovery of any fact is required then registration of FIR is not required to be ordered," he added.
The court's order came on a complaintby advocate Ravinder Kumar seeking direction to the Delhi Police to register an FIR against Hazare, Kiran Bedi, Arvind Kejriwal, Manish Sisodia and six others for allegedly disrespecting the Tricolour during their anti-graft demonstration.
While declining Kumar's prayer for registration of a criminal case, the court allowed him to lead evidence in support of his allegation, bringing his complaint under section 200 CrPC.
"Complainant has already filed bunch of media reports and photographs alleged to be evidence of act of respondents (Team Anna). In the case in hand complainant is in position to bring before the court all the necessary evidence in support of his allegations made in the complaint in respect of alleged offences," the court said and fixed the matter for April 2 for examination of witnesses.
Kumar had annexed his complaint with pictures showing Kiran Bedi, a key member of Team Anna, allegedly waving a torn national flag and other protesters demeaning the Tricolour by mishandling it and painting it on their bodies.
Close