CJI Thakur supports Delhi govt's odd-even traffic formula
Delhi chief minister Arvind Kejriwal's proposed odd-even traffic formula for keeping pollution in check received a big thumbs-up on Sunday from Chief Justice of India TS Thakur.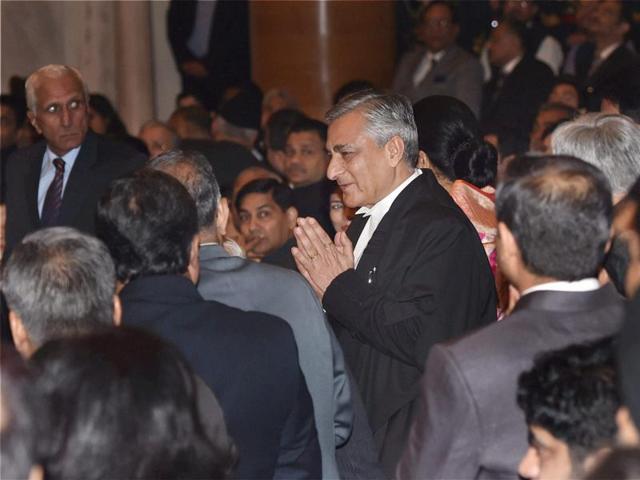 Updated on Dec 29, 2015 04:46 PM IST
Hindustan Times |
, New Delhi
HT Correspondent
Delhi chief minister Arvind Kejriwal's proposal to allow odd and even-numbered vehicles on alternate days on the capital's roads from January 1 has found favour with Chief Justice TS Thakur who termed it a "great idea" and said he would discuss with his colleagues to have a car-pool for the top court judges.
"Judges have no problem with the odd-even formula of the Delhi government," Justice Thakur said on Sunday during his first interaction with the media after he took over as the 43rd CJI on December 3.
"There is no difficulty in even having carpool. If my brother judges agree to it, we can start it soon. We all live nearby and the distance isn't much. It won't be a sacrifice but a message would go to the people that if we (judges) can do it then why not others," he said.
Within hours of Justice Thakur's comments, Kejriwal tweeted that the CJI's endorsement was a "huge encouragement."
"CJI's support 2 odd even formula is welcome and huge encouragement. SC judges pooling cars would inspire millions to follow. Thank u My Lords," he tweeted.
However, Justice Thakur said that carpool or plying of cars on alternate days was not the only solution to Delhi's fight against pollution. "There has to be a multi-pronged approach. We need stringent measures," he said.
Within a day of taking over as the CJI, Justice Thakur had asked the Central Pollution Control Board (CPCB) to collect air pollution data from within the SC premises.
"Environmentalist Sunita Narain told me that the particulate matter in court 1 where the Chief Justice sits is hundred times more than the prescribed limit. Therefore, I wanted the data to be collected so that we can work out some mechanism to solve this," he said.
According to Supreme Court Bar Association officials around 5000 cars are parked in and around the SC on Mondays and Fridays when it takes up fresh matters.
With an effort to curb pollution in the Capital, the top court has been issuing stringent directions from time to time, latest being the imposition of environment surcharge on trucks that enter Delhi but are not bound for the Capital.
Kejriwal government had on Saturday declared its plan a day after the Delhi high court had noted that living in the city was like "living in a gas chamber." The proposal came in response to the HC asking the city administration to spell out its measures on how it intends to curb pollution.
"What remains to be decided is whether the 'thought through' period should be 20 days or three months. We want to do it in 20 days. We have to talk to many agencies involved. In a day or two, we will come out with ads seeking suggestions from public. We will do as the people say," he had said.
Opposition leaders and Delhi police commissioner BS Bassi have been cautious in their response to the proposal. Though they welcomed the idea, but at the same time questioned its feasibility. But a thumbs up from the CJI is likely to embolden the state government in going ahead with its plan.
Close Story