Delhi BJP launches campaign song for MCD polls in chief Manoj Tiwari's voice
Updated on Mar 31, 2017 05:09 PM IST
Delhi BJP chief Manoj Tiwari recorded a song for the party ahead of the MCD polls. The song 'Bhajpa Dil main, Bhajpa Dilli main' was recorded at Karkardooma.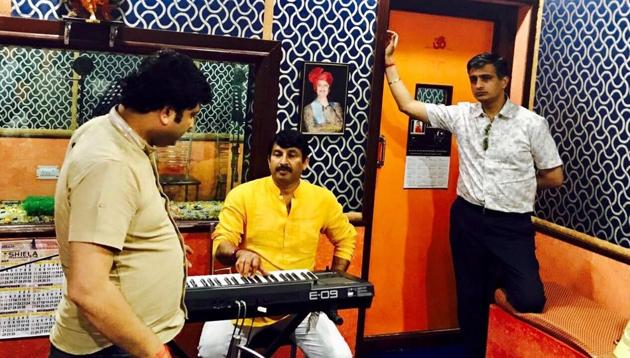 The MCD election, scheduled to be held on April 23, is not going to be a dull one — not at least when popular Bhojpuri singer-turned politician Manoj Tiwari is at the helm of the Delhi BJP.
Adding spice to the election campaign, Delhi BJP president Tiwari has composed and sung a new song titled 'Bhajpa Dil main, Bhajpa Dilli main' (BJP is in our hearts, BJP in Delhi). The party is hoping the song would be the mobile phone caller tune of all party workers and voters in Delhi .
"Our president Manoj Tiwari slogged all night to have our campaign song recorded at a studio in Karkardooma. The recording began at around 10.30pm on Thursday night and was completed at 5.30am," said a party leader.
At the launch of the campaign song on Friday afternoon, Tiwari said the song aims infuse energy among the people of Delhi and party workers. "There is a lot of negativity in the atmosphere and citizens of Delhi are being misguided by the ruling government. So, we thought of a different strategy. We are starting our campaign at a positive note. We will go door to door and convince people to come out of negativity and contribute for the development of city under leadership of Prime Minister Narendra Modi," Tiwari said.
Tiwari added that his song will inspire people together to work for the city. "We will work together to make the city safe, green and digital friendly. Out first poster, released on Friday, also talks about positivity. It says Naye Chehre, Nayee Urja, Naye Udaan, Dilli Mange Kamal Nishan," he added.
Tiwari has written and composed the song with assistance from his team including Neelkant Bakshi and Kumar Vishu. Tiwari's team is working for a tie-up with mobile service providers to make the song available as a caller tune.
Personalise your news feed. Follow trending topics