MCD polls 2017: Kejriwal rails against EVMs, wants paper ballot instead
Delhi municipal elections are likely to be conducted in April this year. Delhi chief minister Arvind Kejriwal is demanding that the polls be held using ballot papers instead of EVMs.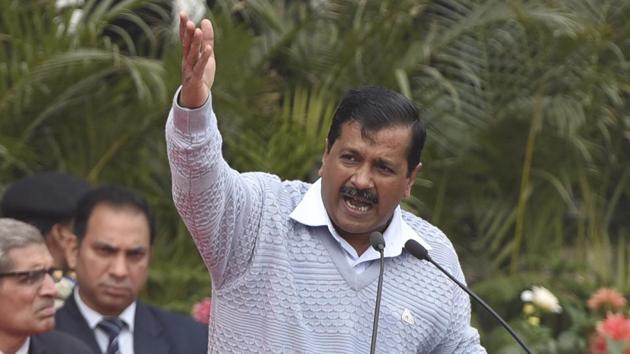 Updated on Mar 23, 2017 07:51 AM IST
Amid a growing chorus questioning the reliability of electronic voting machines (EVMs), Delhi chief minister Arvind Kejriwal directed chief secretary MM Kutty on Tuesday to write to the state election commission, asking it to hold the upcoming municipal elections through ballot papers.
The direction came hours before the poll panel announced municipal elections on April 2.
The direction from the AAP government invited criticism from the Bharatiya Janata Party even as the election body informed the state government that the ball over the issue lies in their court as the Delhi government will have "to amend relevant rules to hold election through ballot paper".
With the Congress making a similar demand, Delhi BJP president Manoj Tiwari hit out at both parties stating it shows "both parties are apprehensive of their loss".
"This demonstrates their utter frustration and the apprehension that they will lose. It is surprising that the Congress has won and lost many elections in the country and Delhi, but today it doubts the credibility of EVMs. If Arvind Kejriwal and Ajay Maken do not trust the EVMs, then Kejriwal should go in for re-poll for Delhi Assembly and Maken should ask Congress leadership to call for re-election in Punjab through ballot papers," Tiwari said.
Earlier in the day, the Delhi Congress also wrote to the chief minister Arvind Kejriwal requesting use of ballot papers in the upcoming elections.
"Without being prejudiced to the results of the recently concluded elections, I just wanted the state government to ensure fair electoral process. Considering some serious doubts have cropped up in the minds of the voters about the alleged misuse of EVMs, we demand the MCD elections to be held using traditional ballot paper system," he said.
An AAP functionary said: "The state government recommendation to the SEC came following requests from several political parties to hold local body polls through ballot paper, as is done in many states".
Defending the move, AAP (Delhi) convener Dilip Pandey said the party was of the view that in wake of complaints from several quarters about "manipulation of EVMs" AAP has demanded that election should be held through ballot papers till the time all "apprehensions" on the issue are addressed.
Following the landslide victory of the Bharatiya Janata Party in Uttar Pradesh assembly elections, Bahujan Samaj Party supremo had openly questioned the reliability of EVMs.
The BJP leaders have been criticising such demands arguing that if EVMs could be tampered in favour of the ruling party at the Centre, how did Mahagathbandhan (coalition of JD (U), RJD and Congress in Bihar) and AAP recorded clean sweep in Bihar and Delhi assembly elections in 2015.
Close Story