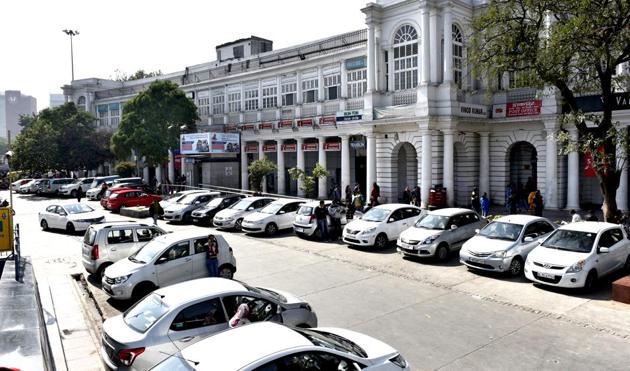 New park-and-ride at Delhi's Connaught Place after car-free plan fails to take off
The NDMC has bought two electric cars to hold trials for 'park and ride' facility in Connaught Place. Visitors will be able to park their cars at Shivaji Stadium and take the electric car from the parking lot to reach Inner Circle.
UPDATED ON APR 11, 2017 07:15 AM IST
The New Delhi Municipal Council, which failed to kick off the ambitious pedestrian-only project in Connaught Place, is now starting a park-and-ride facility for visitors in this central Delhi commercial hot spot.
Two electric cars have already been procured by the civic agency and four more will be brought to start the trial run. The electric cars will be used to get people from Shivaji Stadium parking lot to the Inner Circle of Connaught Place. If the trial run is successful, the council will procure more such vehicles, an official said. "This is being done on a trial basis to see how people find this experience. It is sort of a precursor to car-free Connaught Place," NDMC chairman Naresh Kumar told HT.
Placed in the heart of Delhi, Connaught Place is a traffic nightmare on most days. The situation worsens on weekends and public holidays. "The idea is to decongest Connaught Place. We can try and regulate the vehicles and take care of the traffic nightmare, especially during weekends," an official said.
The council has already procured two Verito sedans, which are electricity-run vehicles. It has also procured six electric scooters for NDMC staff to keep an eye on illegally parked vehicles in the Inner Circle of Connaught Place.
"The idea is to have monitoring at every 500-100 metres in the inner circle of CP. This will help us track illegally parked vehicles and remove them," an official said.
Experts, however, feel the initiative will be another failed step if not coupled with restriction on vehicular movement.
"Pedestrian-only Connaught Place is a step towards decongesting the central business district. This kind of step (park and ride) may not be successful on its own. In Delhi, a city of one crore vehicles, the culture is to have multiple vehicles per family. It is not feasible as nobody will use such a facility. It is viable only when Connaught Place is car free," Dr S Velmurugan, senior principal scientist (traffic engineering and road safety division) at Central Road Research Institute (CSIR).
However, the bigger three-month project to make Connaught Place car-free, slated to kick off on February 1, has been postponed due to lack of unanimity over execution of the plan among the stakeholders, especially the traders, who have opposed the idea and even took to protest.
The plan, which was given a go-ahead by the Union urban development ministry after extensive talks with NDMC and traffic police officials in early January, aims to decongest the heritage shopping arcade in central Delhi. Nearly 2,000 parking spaces were supposed to be removed, including 1,500 from the Inner Circle and 400-500 from the Middle Circle, as this site with a daily footfall of nearly 5 lakh, was proposed to turn pedestrian friendly.
The authorities had proposed two ways to implement the project. According to the first plan, cars will be allowed to enter from Janpath, people will alight at Palika Bazar or Palika Parking and will exit through Baba Khadak Singh Marg. The second plan proposes that cars will be allowed in the middle circle but to drop visitors and shoppers, making it a no-parking zone.
As part of the car-free CP plan, the civic body has also been considering giving incentives to encourage people to use the underutilised automated parking lot at Baba Kharak Singh Marg.
Close