Family of alleged Pakistani spy held from Delhi's Jama Masjid area says he is innocent
It is alleged that that Jabbar was part of a Pakistan Inter-Services Intelligence spy ring to supply hawala money to Pakistan's operatives in Jammu and Kashmir.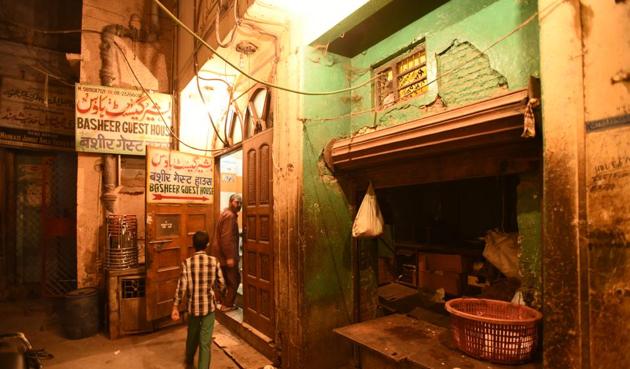 Updated on Feb 21, 2017 06:50 AM IST
For around 24 hours till Saturday evening, Abdul Jabbar's family did not know where the police had taken the 62-year-old man.
The Delhi police special cell and Madhya Pradesh anti-terror squad on Friday evening had come knocking at his hotel, Basheer guest house in Jama Masjid area, and said Jabbar was needed for a 'quick interrogation' by a senior officer. Within minutes, the police had huddled him into their gypsy parked near the hotel on the busy road towards Jama Masjid.
Jabbar, a father of two, has been accused of being a part of Pakistan Inter Services Intelligence spy, where his alleged role was to supply hawala money to Pakistan ISI operatives in Jammu and Kashmir.
"Uncle (Jabbar) was here in the hotel when three police officers came to the guest house and said they were from special cell. They were wearing plain clothes and said that a senior officer had summoned uncle and took him in a police gypsy within minutes. They did not say anything. There were around 15-20 police officers outside the hotel," said Fahad, a relative.
The family said they were informed about Jabbar's arrest in Bhopal only on Saturday evening.
Jabbar's relatives denied allegations and said that he was being framed. Jabbar owns the Basheer guest house while his son runs a fisheries business. Relatives said Jabbar has a clean record and lives with his family in a first floor house, near Jagat cinema in Jama Masjid.
"Uncle has a limp. He has difficulty walking and needs to be taken around in a scooter. It is difficult to believe he is a spy. He does not have a criminal record." Fahad said.
Police reportedly took his bank account details, passbook, laptop and cell phone from his house. DCP (special cell) Pramod Kuswah told HT that Jabbar's case was handled by the MP police. "We were only assisting them because they requested for local assistance."
The family's lawyer Sumeet Kaul told HT that Jabbar was first taken to the Lodhi Colony special cell office where the MP police completed formalities and then took him to Bhopal. "My client does not have any links with anyone. We are co-operating with the police."
Close Story