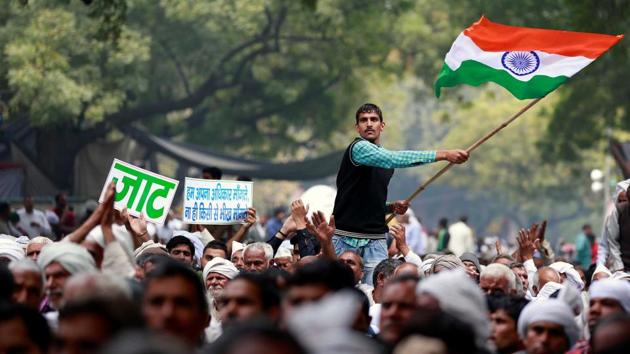 Jat protesters threaten to cut milk supply to Delhi, intensify stir after Holi
Jat protesters said life in Delhi will be brought to a halt if their demand for reservation in jobs and education are not met.
Hindustan Times | By Shiv Sunny and Sweta Goswami
, New Delhi
UPDATED ON MAR 03, 2017 04:10 PM IST
Agitating Jat leaders threatened on Thursday to disrupt supply of essential commodities to Delhi and block roads leading to the Capital if their demands for quotas in jobs and education were not met.
At a protest meeting in central Delhi's Jantar Mantar, Yashpal Malik, the president of the All India Jat Aarakshan Sangharsh Samiti (AIJASS), said five million members of his community would return to the national capital with their tractors and cattle after Holi and intensify their demonstration.
"We will not supply milk to private parties in Delhi for a day as a token protest. We have already stopped supplying milk to government plants and agencies. We have started our 'non-cooperative' movement in Haryana," Malik said.
He added that the Jat protest movement would spread all over north India soon. "We have come to Delhi with determination and we will march towards the parliament," he said.
Malik was addressing a crowd of about 5,000 protestors who thronged the city on Thursday morning to pressurise the Centre for reservations. The Jats want an OBC status for the community.
In the morning, roads leading to the protest hub were choked with Jat protestors from Uttar Pradesh, Haryana, Uttarakhand, Delhi and Punjab, giving a tough time to motorists and commuters. Police and traffic personnel were deployed at major roundabouts and roads to manage traffic as well as the protesters.
Malik said they would submit their memorandum to President Pranab Mukherjee .
"We have seven demands and the government should fulfil them. We want reservations for our community in jobs and education institutions. Haryana government should immediately withdraw pending cases against our people. Others who were injured during previous protest should be given compensation and the government should give a job to a family member of the deceased," he said.
The Jat leader also demanded that action should be taken against errant police officials and also against BJP MP Raj Kumar Saini, who has been vocal against the Jat reservation.
The Jat protests turned violent last year in Haryana as thousands of people clashed with police and vandalized shops and vehicles, causing several deaths.But this time around, the protests have been mostly peaceful.
Close