MCD polls: Dry weekend in Delhi, liquor shops and bars shut till Sunday evening
Updated on Apr 22, 2017 11:29 AM IST
According to a Delhi government circular, liquor outlets will remain shut from 5.30pm on Friday to 5.30pm on Sunday. April 26 has also been declared a dry day due to counting.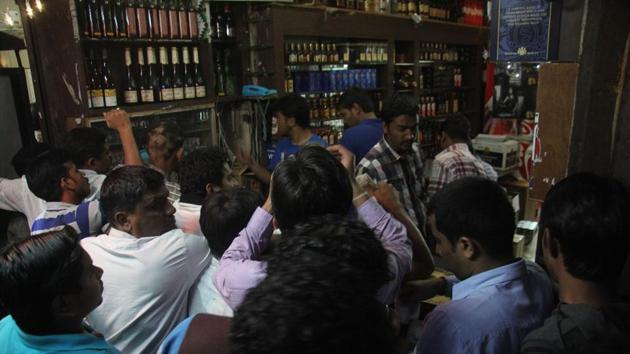 Brace for a dry weekend as starting from Friday evening all liquor shops in Delhi will have to down their shutters till Sunday evening because of the MCD election on April 23.
All bars and liquor outlets will be closed from 5.30pm on Friday to 5.30pm on Sunday, according to an order issued by the state excise department. The shops would reopen once the election is over at 5.30pm on Sunday.
Voting for all the three civic bodies of Delhi — East, North and South municipal corporations — will be held on Sunday. April 26 will also be a dry day because of counting.
"In pursuance of the provision of Rule 52 of the Delhi Excise Rules, 2010, it is hereby ordered that the following days should be observed as dry days on account of the general election to 272 wards of the three municipal corporations of Delhi," said the order issued by the state government on Thursday.
Various clubs across the city have already started informing their members about the government circular and the dry weekend that lies ahead. Meanwhile, liquor outlets in the city are also expecting a rise in the sales.
"Sales usually increase by around 20% just before every weekends and declared dry days. As this will be a declared dry weekend, we are expecting a little more demand," said Chittaranjan Suri proprietor of a wine shop in Greater Kailash II.
Meanwhile, district officials of adjoining states in the NCR will hold meetings to decide how many shops along the border need to be shut down during the same period. During UP elections, several shops in Delhi located along the UP border, were closed.
Bihar chief minister Nitish Kumar , who kick-started JDU's campaign for civic polls earlier this month, demanded prohibition on liquor sale in the city. "Crime rates in Bihar have come down drastically and I want Delhi and other states to follow our example and ban liquor," Kumar had said.