Ola, Uber strike hits Delhi commuters, drivers say bigger protest on Monday
Feb 13, 2017 09:50 AM IST
The divers of app-based cab aggregators went on strike on Friday demanding an increase in fares. As a result, there was shortage of cabs and cab aggregators resorted to surge pricing.
If Friday was difficult day for you because of strike by cab drivers, the coming week could be worst.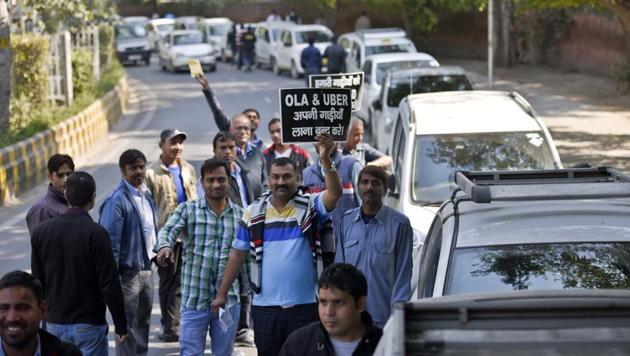 Around 300 cab drivers staged a protest against mobile-based cab aggregators Ola and Uber at Jantar Mantar on Friday and threatened to go on a bigger strike on Monday. The drivers, who are demanding that their fare should be increased from the existing Rs 6 per kilometre, said that on Monday no commercial taxis and autos will be allowed to ply in Delhi-NCR if their demands are not met.
Read: Passengers forced out of Ola, Uber-owned cabs by protesting drivers in Gurgaon
Friday's protest led to shortage of cabs in the city due to which the cab aggregators enforced surge pricing for every ride. "First, I did not get any cab for 5 minutes which is unusual. When I finally got one, prices were 12 times the normal," said Rachita who had to take a cab from Lajpat Nagar to Noida.
Two leaders from an association of cab drivers, Sarvodaya Driver Association of Delhi, also sat on a hunger strike on Friday in protest. "Our fares are even less than auto rickshaws which charge Rs 8 per km and on top of that we have to pay 25% commission to the company. We are left with only around Rs 5,000," said Kamaljeet Gill, president of the association who is on hunger strike.
While Ola refused to comment on the strike, Uber issued a statement saying the strike was an isolated incident. "A small group of people are disrupting the Uber service in parts of Delhi, and there have been isolated reports of threats and intimidation. We are working hard to ensure reliable rides are available for everyone and we can keep the city moving. We call on authorities to ensure the safety of riders and drivers," Uber spokesperson said.
Some commuters, meanwhile, took to social media over the strike and the inconvenience it had caused.
Drivers claim that the meagre fares make it difficult for them to pay the instalments on their car loans. Working hours is another issue raised by them. "They (Ola/Uber) have given us such big targets that we have to work 24 hours or sometimes even more. Otherwise, we do not get any payment," said Hira Singh, who has been driving for Uber for two years.
They claimed that the companies never come out to help them in case of an accident or a police case. "Uber did not come out in support of the driver who died in the recent BMW accident. They didn't give any compensation. In fact, we proposed to contribute from our income and give some money to the family of the victim. For that we asked some support from them, but that also was rejected," said Ravi Rathod, another driver.