Porn clip plays on LED screen at Rajiv Chowk, Delhi Metro looks for 3 suspects
Hindustan Times |
, New Delhi
Shiv Sunny
Apr 17, 2017 07:31 PM IST
Delhi Metro Rail Corporation has started a probe to check if a video of the incident being shared online is authentic. DMRC says the screen was being tested by a private contractor.
Commuters at the busy Rajiv Chowk Metro station in central Delhi's Connaught Place were left shocked when a pornographic clip played on an LED screen for around 10 minutes.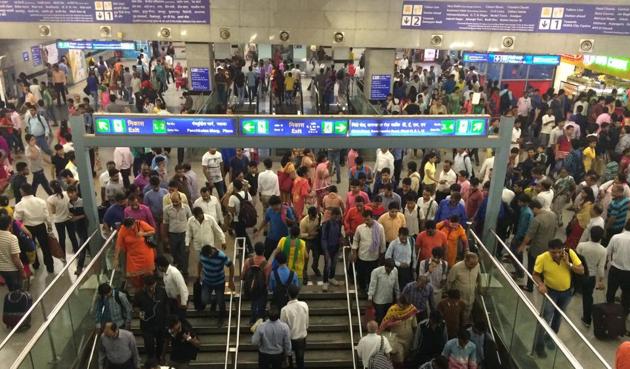 The screen, that was installed on April 9 and is meant to display advertisements, started playing a porn video all of a sudden, eyewitnesses said. The video continued for several minutes and was stopped only after some commuters brought it to the attention of DMRC officials at the station.
The incident was recorded by several commuters on their mobile phones and has been shared multiple times on various social media platforms, forcing the Delhi Metro Rail Corporation to initiate an inquiry. DMRC said three unidentified men may have played the clip on the big screen as the system is not secure.
Anuj Dayal, the DMRC spokesperson, said after preliminary investigations, it has been established that the incident took place around 5pm on April 9. "The LED TV system was being commissioned and its Wi-Fi port was accessible. Prima facie, as per CCTV footage, three men played the porn clip through their mobile (phone) on this TV at Rajiv Chowk station. Attempts are being made to identify these men. CCTV footage is under examination to identify the culprits," said Dayal.
"This sort of interference with the system will not be possible in the future once the software is programmed and centrally controlled. In the interim, during the commissioning process, the contractor will be advised to ensure password protection," Dayal added.
A video of the area, recorded by a commuter, showed most people walk past the screen either clueless or unbothered. A few others, however, stopped by to record the unusual activity on their mobile phones. A few of them then alerted the DMRC officials who rushed into action to turn off the broadcast.
Delhi Police, meanwhile, said they have not received any complaint from the DMRC in this connection. "If the DMRC approaches us after completing their internal probe, we will go ahead with the legal proceedings," said a senior police officer.
"The objective of the LED screens is to disseminate information to passengers through various multimedia tools," said another DMRC spokesperson.
A similar incident had been reported from Wayanad district in Kerala in 2015. Hundreds of passengers waiting at a bus stand in Kalpetta then had seen a porn video playing on a television installed to broadcast advertisements.
A witness had later shared the video of the spot on social media. The user reported that the clip had played for 30 minutes . Some passengers then had tried covering the TV set with a cloth while women and children chose to walk away from the spot.