This baba is worth his weight in gold, literally
Twenty-five personal security guards and eight bouncers guard 54-year-old Sudhir Makkar, known popularly as Golden Baba.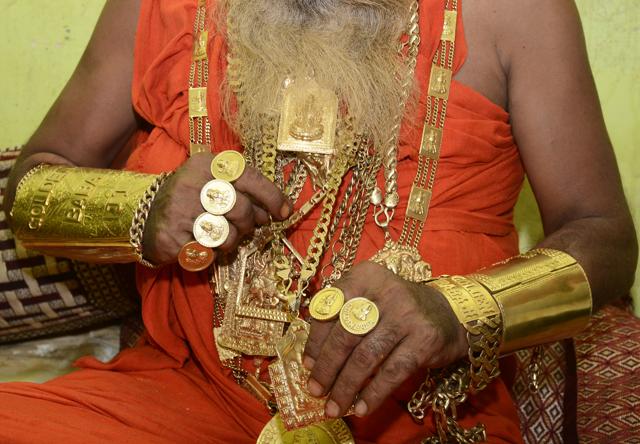 Published on Jul 28, 2016 11:54 PM IST
With 12.5 gold ornaments on his body, a Rolex worth R27 lakh and latest sedans and SUVs in tow -- the kanwar yatra by Sudhir Makkar, aka Golden Baba, has become a unique feature of the annual pilgrimage.
Twenty-five personal security guards and eight bouncers guard baba's booty.

Baba, who celebrated his birthday on Thursday with cakes brought by his followers, has set out on his 24th kanwar yatra this year. Besides his heavy gold ornaments, Baba has a fetish for high-end cars.
"Apart from Audi, Fortuner and BMW, we also take along Hummer, Jaguar and Land Rover cars on rent for the yatra to Haridwar," said Makkar.
"The Rolex is my favourite though," he said.
Talking about his gold fetish, the 54-year-old mahant said, "I like gold since childhood. I remember in 1972-73 a tola (10 gm) of gold cost R250, I had nearly 2-3 tolas of gold then. Now, it's 12.5 kg."
Makkar was not always an ascetic. Before he renounced the temporal for the spiritual, Makkar ran a successful cloth and property business from Delhi's Gandhi Nagar market.
He was sent to a 'gurukul' in Haridwar at the age of six and later went back to Haridwar in search of livelihood. He later sold rosary beads and sold cloth on the pavement.
"Later, I returned to Delhi and opened a shop at Gandhi Nagar with the grace of baba (Lord Shiva) at the age of 20-21 years. The business flourished. I opened five more shops -- Bittu Jeans, Bittu Shirts, Bittu Jackets, etc. As I earned more, the gold deposit swelled. I also ventured into realty business and that too flourished," he said.
Some of his staunch followers said Baba left his business three years ago when the annual turnover was around R150 crore.
After renouncing his grahastha (family) life, Baba said he was trying to "balance" his deeds -- fair or unfair. Popular also as Shri Mahant Ji Golden Puri Babaji, Makkar said his wife, Veena, is a devotee of the Radha Swami Satsang Beas. Married for 27 years, the couple had no children.
The Baba has a collection of 21 big gold chains, 21 lockets of Hindu deities, armlets and even a gold jacket which he wears sometimes.
He said a renowned Delhi company has offered him to promote gold jewellery.
He often makes stops during his kanwar yatra and sits atop his SUV, waving to the locals who cheer him along the route. The staff at all police stations along the yatra route knows him and provide him security.
"When Baba takes rest, we keep a watch on the gold. He offers 'gangajal' at a Shiva temple in Gandhi Nagar. He visits the place since he started his life there," said Sunil Antil, a follower from Sonepat.
Read more: Godmen and their fear of guns: Baba Bullet-proof
"These days journeys to several other places of pilgrimage keep him busy since he has now become a Mahant (an ashram chief)," Antil said.
In the kanwar yatra of 'Golden Baba', there are 10-12 cars, several cooks and a truck loaded with music systems which play remixed devotional songs.
During a stopover, he bathes and spends nearly an hour to smear sandalwood and other fragrant pastes over his forehead. Baba studied till Class 8. He has opened up an ashram at Bilkeshwar Colony in Haridwar and boasts of political connections.
"My life is transparent. My lord knows everything. I will continue the pilgrimage life long. Three months before I left my business and chose devotional life, I put up banners in Gandhi Nagar announcing my decision. I told people that they should get their dues from me and clear those that they owe me," Baba said.
Close Story