Amnesty to Kanhaiya: How sedition law is used to settle political scores
A person inciting violence against the State or threatening national security is very different from someone raising anti-India slogans.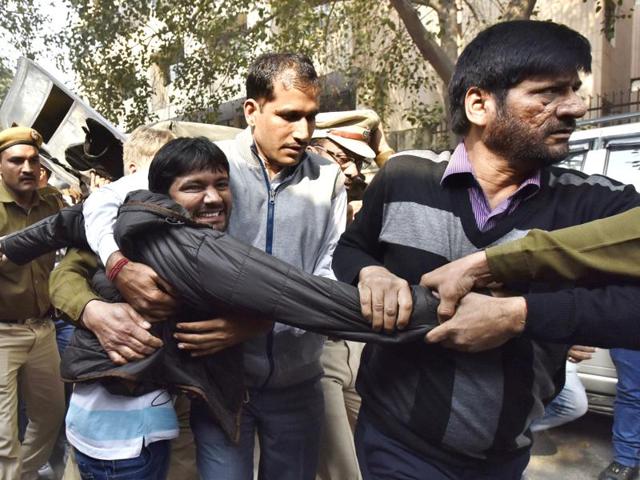 Updated on Aug 16, 2016 03:38 PM IST
The ever delicate sensibilities of the ABVP have been offended yet again by alleged anti-India slogans at an Amnesty International meeting. Based on its complaint, a sedition charge was filed by the Bengaluru police against the organisation on Monday. This is a clear example of misusing the law, which can attract a penalty of life imprisonment and raises once again the need to debate the law and its impact on the fundamental rights of Indian citizens.
What was once a colonial law used to silence Indians is not to be used at the drop of a hat to suppress even legitimate voices of dissent. Today, criticism of a political leader or government policy could well attract the sedition law. A case in point is the Kanhaiya Kumar case. The student leader was slapped with sedition charges after he was accused of raising anti-national slogans on campus in Jawaharlal Nehru University.
Arrest over Facebook post: State must stop abusing its power
The definition of sedition is rather open-ended, -- anyone who attempts to bring into hatred or contempt or excites or attempts to excite disaffection towards the government by words spoken or written or by signs or by visible representation or otherwise is guilty of the offence of sedition. This literally leaves the law open to all sorts of interpretation.
If a person were to utter an anti-India slogan, it in no ways amounts to a threat to the nation. The sedition law then clearly is a political one and it has often been misused by the political class. The Supreme Court has been clear that mere speech does not qualify as sedition. While it may be too early to argue that the sedition law be done away with, its ambit should not be so wide or left open to interpretation by political organisations or their affiliates.
Sedition, violence and 'promise of change': Inside the world of Hardik Patel
Nehru himself referred to the sedition law as an obnoxious one yet his government and all governments since then have not examined the misuse of this law. Instead, it has been used to silence any opinion considered uncomfortable to the ruling dispensation of the day.
In the past, activists Binayak Sen, Arundhati Roy and Uday Kumar (Kudankulam) have been charged with sedition. Another problem is the police which files the charge is not really aware of the implications of the charge and freely entertain complaints by organisations like the ABVP.
A person inciting violence against the State or threatening national security is very different from someone raising anti-India slogans. The frivolous filing of sedition charges must be firmly discouraged both by the police and the judiciary and it should not be used as a tool to settle political scores.
Close Story