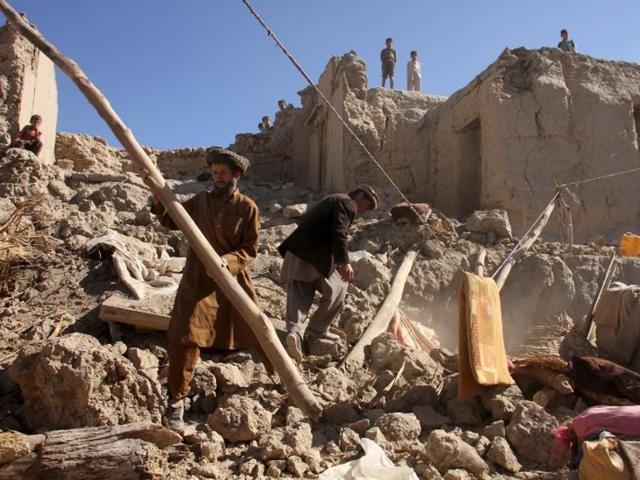 Coping with earthquakes: We're on shaky ground here
Coping with earthquakes requires measures of all kinds — political, institutional and logistical
UPDATED ON OCT 27, 2015 09:05 PM IST
It is merely fortuitous that India escaped the brunt of the earthquake that had its epicentre in the Hindu Kush and caused the deaths of more than 300 people in Pakistan and Afghanistan. This is the second time in six months that India has felt a severe earthquake. As has been observed in these columns, this and other natural factors are things against which the mightiest military power is miserably weak, and this is sufficient reason why nations should work together in the interests of peace and the well-being of humanity. Prime Minister Narendra Modi made a good gesture by calling his Pakistan counterpart Nawaz Sharif and Afghanistan President Ashraf Ghani, and offering help. This should be taken forward to create every possible precaution so that action is not delayed in the event of an earthquake, which, after all, cannot be accurately predicted, let alone prevented.
After the earthquake in Nepal in April, a review as to which regions in the subcontinent are most susceptible to earthquakes was supposed to come and that has not materialised so far. The intensity of the earthquake on Monday was more severe than it was in Haiti in 2010, when more than 200,000 lives were lost. To date we know that the entire north India falls in a high-risk seismic zone (Seismic Zone IV) and yet there seems to be little awareness of the magnitude of the problem. If we take Delhi as an example, a huge number of buildings have come up close to the plains of the Yamuna, which makes them highly vulnerable if disaster strikes. According to a study by the Centre for Science and Environment, 70-80% of the buildings in Delhi violate safety regulations. Add to that the problem of not using earthquake-resistant material and haphazard city planning. A survey by the Tejendra Khanna committee, set up in 2006, showed that nearly 80% buildings were structurally unfit. Apart from the rampant construction, legal stipulations are often not adhered to with regard to building and bridges, and because of the existence of multiple authorities, certifying structural safety is not properly done. Retrofitting these buildings might give them a longer life in a normal situation but will not be of much use if there is an earthquake.
At the level of citizens, there should be scenario planning, which means keeping people informed as to what they should do if there is an earthquake. The idea is to minimise the damages. Citizens' involvement can complement the efforts of the National Disaster Response Force, which comprises battalions of paramilitary outfits. It is also to be noted that the central government has no specific ministry to deal with disasters. Creating one would not be a bad idea because it alone can draw from the experiences of other countries.
Close