Padmaavat protests: Karni Sena must be punished and banned
Updated on Jan 25, 2018 06:47 PM IST
Based purely on the events of Wednesday, the Karni Sena must be punished, and the Union home minister must have a conversation (preferably a tough one) with the Haryana chief minister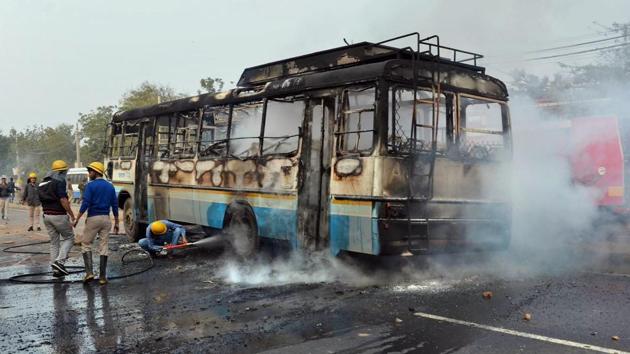 Between Prime Minister Narendra Modi's upbeat and statesman-like speech in Davos and the 69th Republic Day Parade that will be witnessed by leaders of all 10 Asean nations (here to be special guests at the event and also attend a crucial and commemorative Asean-India summit), came the Karni Sena's violent protest over the release of Padmaavat.
Gurugram and other parts of the state of Haryana weren't the only ones to witness this protest. Madhya Pradesh, Gujarat, and Rajasthan did too, but the violence in Gurugram was hard to ignore. It happened not very far away from the Indian capital, in a satellite city that sees itself as the future, a wonder of glass and chrome that is home to multinational companies and their managers.
Yet, all it took to bring a place that calls itself millennium city to its knees — schools shut, pubs and shops closed, offices sparsely attended, traffic choked — was an angry bunch of uncivilised and uncivil men protesting the cinematic portrayal of a mythical queen whose existence remains a matter of debate.
And so, visiting heads of state from Asean countries arrived to headlines not about their arrival or India@Davos, but about the attack on a school bus by brave Rajputs from the Karni Sena.
Law and order is a state subject in India and yet again, the government of the state of Haryana has shown itself inept at handling an issue that just needed a firm hand. It's entirely possible that the firm hand was not used because the protestors share the same Right-wing sensibilities as the party in power. If that isn't the case, and, if the protests were being orchestrated by Opposition parties to embarrass the government (as some conspiracy theorists suggest), then surely, there need be no hesitation in using a firmer hand?
Worryingly, the Congress and BJP, the two mainstream parties of Indian politics, have chosen to remain silent about the attacks, perhaps because they consider the Rajputs an important electoral base in Rajasthan and Madhya Pradesh, both of which go to the polls later this year. If that is indeed the case, it won't be the first time cynical opportunism has carried the day.
Based purely on the events of Wednesday, the Karni Sena must be punished, and the Union home minister must have a conversation (preferably a tough one) with the Haryana chief minister. When seen in the larger context of the embarrassment the protests have caused the government, the Karni Sena must be outlawed. At Davos, Mr Modi spoke of a red carpet replacing red tape. On Wednesday, on the streets of Gurugram, neither was on display. Red (Rajput) rage was.