RSS devaluing IITs-IIMs by branding them anti-Hindu, anti-national
Updated on Feb 28, 2017 02:09 PM IST
The RSS is devaluing the IITs and IIMs by branding them anti-Hindu and anti-national.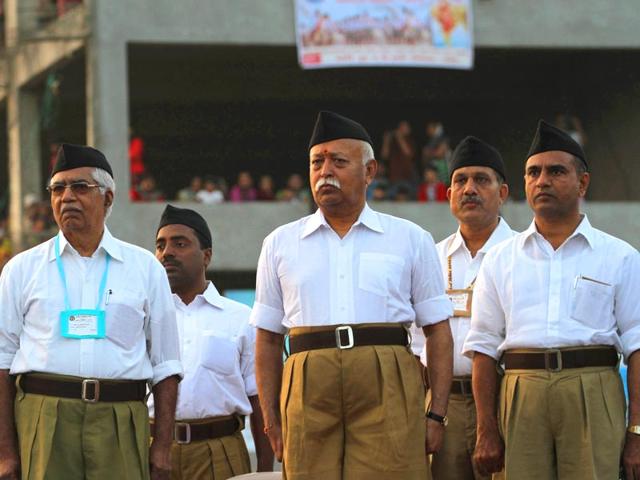 Is it just a cultural outfit or does it have a role in guiding the political destiny of India? The RSS really needs to make up its mind.
After saying that it had no role in running the government, the RSS has missed no opportunity to make its views heard on a number of issues which are not in its purview as a non-political cultural outfit.
And many of these pronouncements have harmed the image of the BJP government, in whose name it often claims to speak. The latest salvo is against some of the IITs and IIMs by the RSS mouthpiece, the Organiser. It says that these institutions are promoting an anti-Indian and anti-Hindu sentiment.
It singled out eminent nuclear scientist Anil Kakodkar for criticising the HRD ministry on certain issues. It then bizarrely asks why Mr Kakodkar did not criticise the Kiss of Love movement by IIT Mumbai students even as he accused Union HRD minister Smriti Irani of recruiting directors to the IITs casually.
The other pieces of evidence of anti-national and anti-Hindu activity consist of the introduction of non-vegetarian food in IIT Roorkee's canteen and the apparent low morals of the faculties in IITs, which were misguiding students.
The IITs and IIMs are by all accounts India's calling cards in educational excellence. Scientists and other top academics have every right to question the actions of the ministry, but this in no way amounts to any attempt to undermine these institutions.
It beggars belief that an institution of learning should have to prove its Hindu credentials. The government should step in and tell the RSS to stay out of these institutions and stop damaging the morale of the faculty and students.
The mouthpiece has also meddled in the FTII imbroglio, dubbing those protesting against the appointment of Gajendra Chauhan as chairman as anti-Hindu. The RSS is clearly way out of line with these remarks.
It is not the custodian of Hinduism and being pro-Hindu cannot be a qualification for any institution. By interfering like this, it is devaluing the brand of these places where the best and brightest of our students study. If the RSS contention that the Left and Congress sought to undermine these institutions by introducing an ideological tilt to them, then it is doing the same by its remarks.
The RSS can well be a guide for the BJP, but it has to leave the running of institutions to elected representatives. In recent times, it has sought to communalise many issues to the detriment of our social fabric.
It must confine itself to its avowed claim that it is a cultural organisation and refrain from intruding into areas where it has no expertise or knowledge.
This might be something it could ponder at its meeting in Nainital which begins this week.
Read:IITs are being used for 'anti-India, anti-Hindu' activities, says RSS
Close Story
Personalise your news feed. Follow trending topics