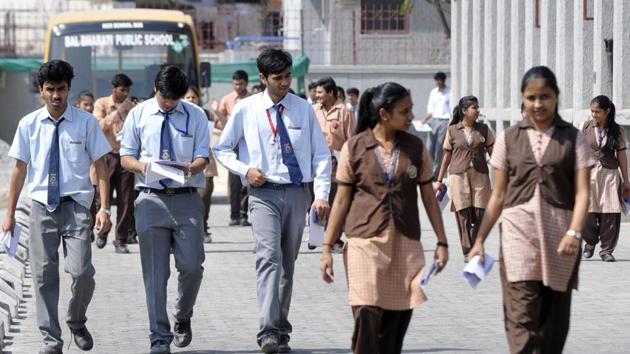 Chaos, delays as CBSE holds first exam after leaks
Following the leaks of question papers, the CBSE announced that the examination centres would henceforth receive an encrypted copy of the question papers on e-mail and they would need to download and print themselves.
Hindustan Times, New Delhi | By HT Correspondent
UPDATED ON APR 02, 2018 11:53 PM IST
The first board exam conducted on Monday by the Central Board of Secondary Education (CBSE) after reports of paper leaks emerged last week was shrouded in confusion and delays in Delhi, particularly in schools run by the state government.
Teachers at a number of Delhi government schools, mainly in outer city areas functioning as examination centres, said they received the paper from the designated banks late, while a few also said there was no clarity on whether they had to print the encrypted question papers at the centres. Class 10 and 12 students were appearing for elective language papers on Monday.
CBSE officials confirmed they had implemented "an alternative system" on Monday but refused to divulge details, saying they wanted to take "the people, who are leaking the paper, by surprise".
There were also delays at many centres across the country due to the Bharat Bandh called by Dalit groups over a Supreme Court order barring immediate arrest on complaints filed under the SC/ST (Prevention of Atrocities) Act.
"There were three alternative strategies and one of them was used today, because of which exams were conducted smoothly across the country barring a few minor delays, which were caused primarily because of the bandh," said a CBSE official.
Read: When will Class 10 maths re-test be held, Delhi HC asks CBSE
Sources said the CBSE might have printed a fresh set of question papers for Monday's exams, which could have caused delays.
In certain areas across the country, students were unable to reach their examination centres on time, while at many places the examination did not take place, including at a few schools in Jahanabad, Bihar, the CBSE said.
This prompted the board to issue an advisory across the country to its regional centres, to compile and send reports on any incidents of exam delays or cancellation.
CBSE officials said a retest would be conducted for them along with one in Punjab after examining the complaints.
"...barring Punjab, approximately 6.2 lakh students of Class 10 and 12 appeared in various exams for various subjects today including Hindi, Sanskrit ,Gujarati, Nepali, Kashmiri, French and Urdu. In a few instances at some centres in the country, the exam was delayed by a few minutes to half an hour due to the bandh," the CBSE said on Monday evening. It said students were facilitated to reach examination centres or given extra time to complete the paper.
Read: CBSE Class 12 Hindi Core paper 2018 analysis: Students give mixed response
On Thursday, the board conducted a mock drill where schools were asked to print their own question papers using an encrypted link, and later told them that this would be the system to follow on Monday. However, by Sunday evening most schools in Delhi, including government and private, had received a message from the board on WhatsApp and over phone calls that this would not be done. Many Delhi government schools started the exam up to an hour and 15 minutes late. However, private schools largely did not face any such glitches, prompting the CBSE to take up the matter with the Delhi government, stating that some government school teachers were "deliberately" spreading rumours and lies on social media and making public the confidential strategy of the board.
"The delivery of printed question papers was pre-planned, contrary to rumours and lies being spread by a few Delhi government-run school teachers. It is not possible to print so many papers at the last minute. These rumours and lies are being spread by Delhi government schools which are the only schools in India not cooperating with us for anything. We have spoken to the education secretary to warn their teachers to stop spreading rumours," said a senior CBSE official, who did not wish to be named.
The official also confirmed that the board did not use the proposed encrypted link system.
"We have the utmost respect for the CBSE and the scale of the exams they undertake. We always try to cooperate with them in any way possible. The delays were not just at Delhi government schools, even some private schools faced issues. Also, not all Delhi government schools had an issue," said a Delhi Directorate of Education official.
Close