Due north: Indian students rethink US study plans
Hindustan Times |
HT Correspondents
Nov 23, 2016 07:45 PM IST
With Donald Trump's win and changing norms across the US border, the America-vs-Canada math for Indian students has been altered overnight
There's a sense of the brakes having been applied when it comes to Indian students applying to study in the US — a country that has traditionally been one of the most popular study-abroad destinations for desis.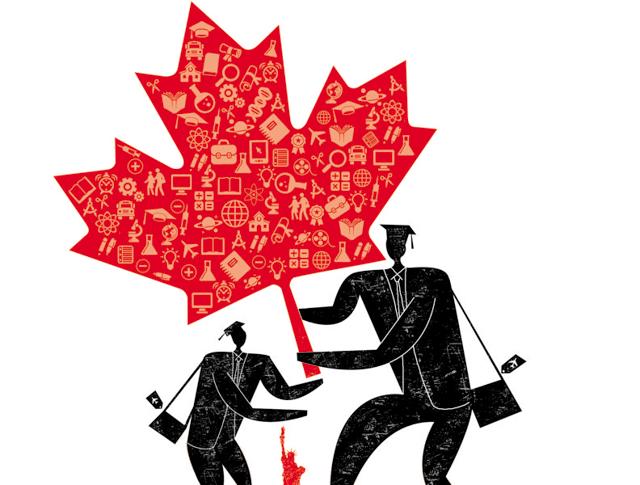 After the surprise win by Donald Trump, who won on the back of radically anti-immigrant stances, some Indian students are already rethinking their plans.
Akbar N, 23, a medical student from Navi Mumbai, has been studying for the United States Medical Licensing Examination since 2014. "After Trump's victory, I'm not sure if giving the exam is such a great idea," he says. By the looks of it, even if no changes are made in the immediate future, there's a good chance there'll be stringent restrictions introduced over time. The licence takes years to get and I don't want to get halfway through the process and then find out I can't live or work there, because that will mean starting all over from scratch somewhere else and how will my career ever recover from that?"
Rimpy Panchal, 23, an engineer from Kalyan, is all set to head to the US for a Masters in computer science from the University of Illinois, Chicago, and is no longer sure it's worth the cost and effort. "I feel like my future in the US is uncertain," she says.
Read: Why should Indian students be looking at Canada now?
The surprise election results have certainly put a question mark on the US immigration policies, says Rahul Choudaha, co-founder of interEDGE.org, a US-based firm that counsels international students. Trump has spoken of putting up walls, stopping certain kinds of immigrants from entering and cracking down on the use of the H-1B visa, which allows the US employers to recruit foreign professionals in specialty occupations within the USA for a specified period of time. "Considering that one of the core values of international education is celebrating diversity and learning from differences, Trump's viewpoints are insular and not in line with the values of cross country education," says Choudaha. "It is likely that the future policies will start looking inward and slow down international education exchanges and student mobility."
Shireen Ardeshir, senior consultant at Study Networks, a study-abroad advisory, adds that there is certainly trepidation among Indian students, some of whom had already formulated a study-abroad strategy involving the US and are now looking at other options.
In the midst of the uncertainty, the US's neighbour to the north, Canada, is emerging as a more attractive destination.
"The universities there are known for high-quality, internationally recognised courses at affordable costs. English, French and bilingual universities ensure there are no language barriers," says Ardeshir. "The lifestyle is familiar and desirable too, particularly for those who were headed to the US. Canadian cities such as Vancouver, Toronto, Montreal and Calgary routinely feature among most livable cities in the world."
Course Correction
Also driving this positive perception are changes such as Canada's new education policy in 2014 that marked India as a priority country.
Universities Canada (then the Association of Universities and Colleges of Canada) played an active role in consultations led by the advisory panel on Canada's International Education Strategy. It highlighted Canadian universities' commitment to internationalisation and interest in a multi-faceted approach to international education, including two-way international student and faculty mobility, international research collaboration, joint academic programming etc.
Universities Canada also noted that the rapidly emerging economic powers of Brazil, China and India are priority countries for many Canadian universities, which were also building people-to-people linkages and institutional partnerships with other emerging markets.
The Canadian government is also making a targeted effort to recruit top students in India, so through various initiatives India's students were being made aware of "Canada's value proposition — a consistently high-quality education at an attractive price in a tolerant, diverse, safe and welcoming environment," the official said.
As a result of this inclusive approach, the numbers were already climbing, even pre-Trump.
Between 2004-2005 and 20132014, the number of international students enrolled in Canadian universities almost doubled, from 66,000 to 124,000 — an 88% jump.
"This number is likely to jump by at least 20% in the near future because of the wariness among students about the US and increasing opportunities in Canada," says Ardeshir.
Read: Canada's 2017 immigration plan to benefit Indians
Aniket Karnani, 22, is pursuing a Masters in computer science from University of Ottawa in Canada. "When I joined the course last year, I wasn't motivated by my family because the country didn't offer as many opportunities as the US does after the course," he says. "But now seeing the turmoil and confusion in minds of my peers about prospects in the US, I am happy about my decision. I at least have a stable future."
"Exciting news! Hindustan Times is now on WhatsApp Channels
Subscribe today by clicking the link and stay updated with the latest news!"
Click here!