Somewhere, over the rainbow: Colleges take steps to embrace LGBT students
Hindustan Times |
Pankti Mehta Kadakia
Jan 15, 2017 05:03 PM IST
On the cards are film and literature festivals, peer counselling, even a gender-neutral Rose Day.
For IIT-Bombay student Raj Thakur*, coming out as gay — and comfortably so — had a lot to do with the support he received on campus. "I'd known I was gay since Class 7. It was only when I came to the IIT campus and saw the many students here who were out, proud and secure in their sexuality that I was inspired to come out too," he says.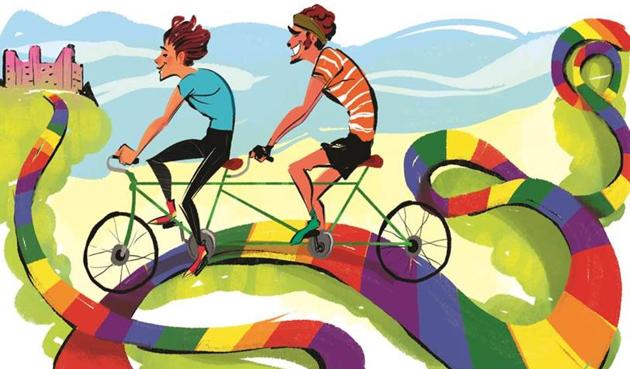 IIT-Bombay was one of the first educational institutes in the country to install a support and resource centre for LGBTQ (lesbian, gay, bisexual, transgender, queer) students. Called Saathi (Hindi for companion), it was launched in 2011.
By contrast, Nitin Sharma*, a medical student in central Mumbai, believes he would be a different person if his college campus were supportive of his sexual orientation.
"Sexuality is never a subject of discussion, despite this being a college that aims to train the next generation of doctors," he says. "People are rigid, and the easiest way to deal with it is to change your own ways. I now think of myself as asexual."
Last month, students at the Tata Institute of Social Sciences (TISS), Chembur, complained of homophobic harassment from peers and staff members. Considered one of the more liberal colleges in one of the more liberal cities in the country, the incident has highlighted the need for a concerted effort to embrace and include the LGBT student community.
The college campus can play a big role in ensuring a student's confidence in and comfort with their sexuality, since students spend their formative teenage years here, say experts.
"In the realm of sexuality and gender, education is key," adds Ashok Row Kavi, activist and founder-chairperson of the Humsafar Trust, an LGBT rights and health services NGO. "Many students are totally unaware of their own bodies, and this is dangerous. There is so much misinformation because colleges are closed-up about these subjects — I have been to colleges where students think oral sex means kissing. With better education, not only can we have a friendlier society, but we could perhaps also bring down the rates of sexually transmitted diseases."
"Dialogue about gender and sexuality is essential at the college level. Insensitivity can lead to bullying, apart from coming in the way of learning," says Pallav Patankar, a gender and sexuality consultant.
At TISS, for starters, the effort to address the issue has begun.
Read: CBSE announces exam dates for classes 10 and 12 | Full schedule
"The Gender Amity Committee (GAC) has received a few complaints of verbal harassment on the basis of gender non-normative behaviour," says Shewli Kumar, associate professor and chairperson of the GAC. The GAC comprises faculty, elected student representatives and staff, and engages students, faculty and staff on issues of gender and sexual harassment.
"Like all other institutes of higher learning, TISS has a diversity of students, faculty and staff," Kumar adds. "We are addressing these issues by meeting complainants and those who indulge in such behaviour, having workshops with administrative staff, security guards, students and other members of the TISS community regarding their stereotypes and need to change their perceptions and attitudes."
Elsewhere in the city, other colleges are taking first steps towards making their campuses more LGBT-friendly too.
CHANGE THE GAME
At Topiwala National Medical College (TNMC), Parel, the annual college festival Aarambh has picked LGBT rights as its social cause this year.
To be held from March 6 to 9, the festival will bring together medical students, doctors and LGBT rights activists for a series of lectures, a street play competition and awareness videos.
Aarambh has partnered withthe Maharashtra Association of Resident Doctors, along with activists such as Ashok Row Kavi, Harish Iyer, Laxmi Narayan Tripathi, and the reigning Mr Gay World India, Anwesh Sahoo, for its initiatives.
Read: Exit exam for MBBS medical students? It's necessary, say experts
"It's very important for this message to come from and to the medical community," says Preet Sharma, a third-year MBBS student and general secretary of the college. "They can dispel many misconceptions and sensitise people based on scientific fact."
"The fields of psychiatry, hormone therapy, gynaecology, endocrinology and dermatology are all closely linked to gender issues, and sensitive doctors can make a world of a difference," adds a gay student, on condition of anonymity.
On January 14, KC College in Churchgate is hosting a literary media festival with the theme of gender in media. "This includes the third gender," says vice-principal Shalini Sinha. "In fact, we have rechristened the Women's Development Cell the Gender Issues Cell — because we want transgender students to feel welcome."
At the festival, there will be essay, poetry and art competitions around the theme. "We have a couple of students who have come out openly and are associated with the Humsafar Trust. We ensure that these students are available to counsel others and, when necessary, we consult with Humsafar for further help," Sinha says.
Ramnarain Ruia College in Matunga celebrated its annual Rose Day last September with a twist. Students were asked to come dressed in rainbow colours as a show of solidarity with the LGBT community, and gender-neutral rose-giving was encouraged. "This was very wellreceived," says principal Suhas Pednekar. "The idea is to show that everybody is a human being first. We found that the new generation is more open than ours, and how fortunate that is."
At IIT-Bombay, meanwhile, Saathi will host its first queer literature and art festival, on January 14. Free and open to all, the day-long event will feature discussions about the representation of queer people in cinema and books.
Speakers include LGBT activists Ashok Row Kavi and Parmesh Shahani, and mythologist and author Devdutt Pattanaik.
"We have also developed a multimedia library in English, Hindi and Marathi called Saathi Connect, which has literature about understanding sexuality," says Omkar Masurkar, a thirdyear student and member of Saathi. "The idea is to keep the conversation going."
Saathi Connect is freely available on www.saathi-connect.in.
* Names changed on request
(With inputs from Lavina Mulchandani)