CM Pinarayi Vijayan: The man at the centre of Kerala's political battle
Will he be able to beat the four-decade-old poll history of the state where an incumbent has never been given a second consecutive chance?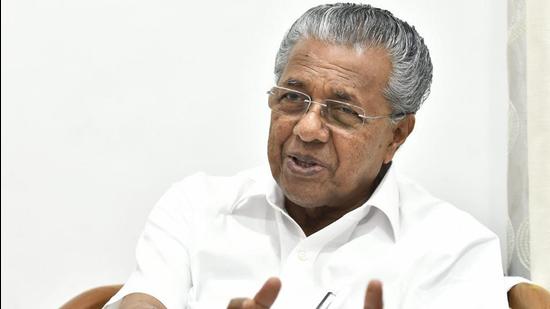 Updated on Mar 10, 2021 11:09 AM IST
For the Communist Party of India (Marxist), it is a battle for survival. If it loses Kerala — the only state where it is in power — the Left will be left out of the political-governance map of the country. And hoping to see the party through this test is the 76-year-old chief minister Pinarayi Vijayan.
Will he be able to beat the four-decade-old poll history of the state where an incumbent has never been given a second consecutive chance and there has been an electoral cycle where power has alternated between the state's two key political forces, the Left and the Congress?
Known for his Stalinist style of functioning in the organisational hierarchy, Vijayan is indispensible within the party's scheme and emerged stronger within the state unit after party veteran VS Achuthanandan, who often acted as his counterfoil, retired from active politics. But this story has deeper roots, and explains Vijayan'a political evolution as well as his ability to both compromise and struggle to achieve his ambitions.
Also Read | Kerala elections: CPI announces list of 21 candidates, to contest on 25 seats
Hailing from a toddy tapper's family, Vijayan entered politics through the Left movement in late 1960s. Interestingly, his bête noire, Achtuhanandan, groomed him initially and he helped his mentor in internal party battles. Vijayan, then, became the party secretary with his mentor-turned-foe's help in 1998 after the death of party secretary Chadayan Govindan. But when both started cultivating parliamentary ambitions, they fell out. At the height of factional feud, both Achuthanandan and Vijayan were suspended from the politburo in 2007. Slowly, Vijayan turned undisputed leader in the party after 97-year-old Achuthanandan hung up his boots.
Once he did assume control, Vijayan has been focused on highlighting his governance, both in terms of development and welfare, and adding to his political strength. In Kerala, Vijayan's stamp is everywhere with control over his cabinet and all key governance programmes. But this has also opened him to charges — when some of his officials allegedly got into a thriving smuggling racket or when, despite the state once being lauded for its battle against the pandemic, it turned into a hub for the spread of the virus.
Also Read | Why did 'Metro Man' Sreedharan become a politician at 88? The BJP leader answers
To distance himself from the controversies, Vijayan has deployed his political astuteness. While scandals such as gold smuggling, back door entry in government service, Life Mission project kickbacks and fishing rights issue gripped his government, the CM has sought to portray himself as "above so-called misdeeds" by "sacrificing" some of his aides. He has also, cleverly, used the norm of not giving tickets to those who have won two terms consecutively to sideline some of his detractors such as finance minister Thomas Issac.
While his detractors claim that it is a well-oiled cyber army and strong public relations that has installed Vijayan on high pedestal, his supporters claim Vijayan steered the state, successfully, during two consecutive floods (2018 and 19) and devastating pandemic and he stood with people in thick and thin. "He is a man of masses and he knows their pulse very well," said Politburo member M A Baby, claiming that both the Congress and the Bharatiya Janata Party (BJP) have teamed up against the CM since they know that his continuation of power is certain.
The CM, known to adroitly use crises as opportunities, often claims in his political campaign that his government never let people to go to bed hungry. "In tough times, we kept our people close to our heart." It is true that free food kits, distributed through the public distribution system, are popular in the state — with an eye on polls, the government has extended food kit distribution that began in last March till May this year. In response, the Congress has gone back to Rahul Gandhi's Nyay (minimum monthly income scheme for the poor) promise during the 2019 elections to offset the political advantage of food kits for the Left.
Wedded to social causes, the idea of economic development, based on the modernisation of farming, labour sector, or technology, was anathema for Communists. But Vijayan is also, now, riding on developmental plank for the second term.
"Many things that were written off forever materialised during my five-year tenure like the national highway development plan, GAIL pipeline and linking of inland waterways," the CM has said, hoping this will break the four-decade-old poll pattern in the state.
What really boosted the CM's morale is a thumping win in local body elections last year, and at least four pre-poll surveys predicting an edge to his coalition. Worried, the Congress has been forced to bring back old war horse Oommen Chandy to check the Left's run. It is also trying hard to infuse new faces in their candidate list.
In the last five years, Vijayan also strengthened his coalition by adding Janata Dal (S) and Kerala Congress (Mani), a predominant Christian party to the Left fold, besides accommodating defectors from other parties. "He has also managed to give an impression to minority communities that only the Left can check saffron forces in the state. People like his tough taskmaster attitude and he somehow developed an image that things will work under his leadership," said senior journalist NK Raveendran.
Unlike earlier austere Communist regimes, the Vijayan government has invested tremendous resources in its public relations exercise, alleges the Opposition. "On certain days, newspapers carry eight to ten advertisements of the government. The government spent crores of rupees for public relations exercise. But people are intelligent and they won't be carried away by his publicity glitz," said opposition leader, Ramesh Chennithala. A reply secured under the Right to Information last year said the government had spent ₹27.9 lakh to commemorate death anniversary of late Cuban leader Fidel Castro, with critics saying this was only tip of the iceberg.
Close Story