Karan Johar says if he launches a new face today, nobody would watch that film: 'How do you recover...'
Dec 12, 2022 10:14 PM IST
Karan Johar has said that if he were to make a film with new faces today, it would not be commercially viable as nobody would watch the film.
Karan Johar has said that the marketing costs required to promote a Bollywood film these days mean he would not be able to make a commercially viable film with newcomers. The filmmaker has often faced allegations and barbs about only supporting and launching star kids in his films. He talked about the commerce of Hindi films at a recent interaction where he spoke about why it does not make sense to launch new faces in Bollywood. Also read: Karan Johar says Bollywood lacks spine and conviction to make original content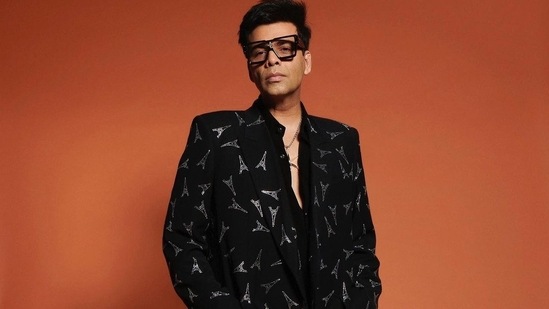 Karan, through his production house Dharma Production, has launched star kids like Alia Bhatt, Varun Dhawan, Janhvi Kapoor, and Ananya Panday over the years. Saif Ali Khan's son Ibrahim Ali Khan is assisting him in his directorial comeback Rocky Aur Rani Ki Prem Kahani. Even as Karan has been accused of promoting nepotism in the industry, his films, however, have featured several 'outsiders' as well, including Sidharth Malhotra, Tara Sutaria, and Vicky Kaushal, to name a few.
Recently, in a roundtable discussion hosted by Galatta Plus, Karan and Anurag Kashyap spoke about the differences in the cost of making a film in Bollywood and down south. As Anurag pointed out about the 'controlled marketing strategies' of south films, Karan added, "And also the costs are lower. They don't have marketing costs like we have. Today if I want to launch a new talent, a new boy or girl, nobody is going to watch that film. Because we'd have to promote that film so much that how do you recover that PNA (personal networking agency). So the way the marketing goes in other languages, Hindi is ridiculous."
Karan further criticised the marketing campaigns used by most major films in today's times and said, "Our PNA costs are pointless. They are not serving anybody. By going around in reality shows and visiting malls and going 'wow 8000 people show up'. But 80 don't reach the theatre."
Karan last directed a film in 2016--Ae Dil Hai Mushkil. He will be making a comeback as a director next year with Rocky Aur Rani Ki Prem Kahani. The film stars Ranveer Singh, Alia Bhatt, Dharmendra, Jaya Bachchan, and Shabana Azmi.
Topics