Sukesh Chandrashekhar promised big house, luxurious lifestyle if I agreed to be his girlfriend: Nora Fatehi tells court
Jan 19, 2023 03:07 PM IST
Nora Fatehi revealed that alleged conman Sukesh Chandrashekhar promised her a big house and luxurious lifestyle if she agreed to be his girlfriend, as per media reports. The actor reportedly made the statement in Delhi's Patiala House Court.
Nora Fatehi has recorded a fresh statement in Delhi's Patiala House Court in connection to her alleged involvement in the ₹215 crore exhortation case involving alleged conman Sukesh Chandrashekhar. Nora said she was told that while 'many actresses were dying to be taken care of by Sukesh', he wanted her. She added he promised her a 'big house' if she agreed. Apart from Nora, actors Jacqueline Fernandez, Nikki Tamboli, Chahatt Khanna and others have also been linked to Sukesh amid his alleged money laundering case that has been making news since last year. Also read: Nora Fatehi denies connection with Jacqueline Fernandez, says both were talking to Sukesh Chandrashekhar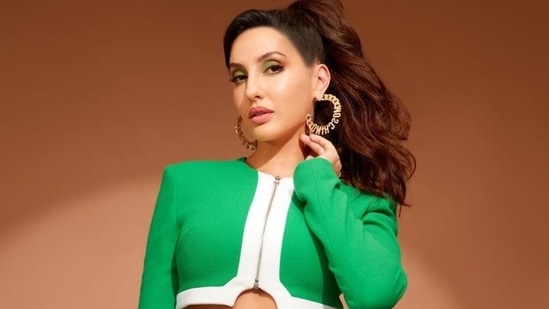 Now, apart from Jacqueline Fernandez, Nora Fatehi has also accused Sukesh Chandrashekhar of lying to her. In Nora's statement in court in connection to the alleged extortion case, the actor and reality TV personality reportedly said that Sukesh had promised her 'a big house and a luxurious lifestyle' if she agreed to be his girlfriend. Nora said that the alleged conman 'sought undue favour from her' through his close aide Pinky Irani.
As reported by India Today, Nora Fatehi said in her statement in court, "Many actresses are dying to be taken care of by Sukesh (Pinky Irani reportedly said). Initially, I did not know who Sukesh was. Later, I thought he used to work at a company called LS Corporation. I neither had any personal contact nor did I ever have any conversations with him. I had no clue about this and I never met him. The only time I saw him was when the ED confronted me with him at its office."
Nora Fatehi's recent statement came days after she appeared before Delhi's Patiala House Court, and recorded her statement in connection with the extortion case. Her statement served as evidence and is now being treated as a witness in the case at hand, as per reports. Nora also said in her statement that she came to know that Sukesh Chandrashekhar was a conman only when she was summoned by the Enforcement Directorate (ED) in connection with the ₹215 crore extortion case. She reportedly also said that she was a 'victim' in the case involving Sukesh, and was not involved in money laundering of any kind. The ED, however, had accused Nora of receiving gifts from Sukesh, including cars, diamonds and designer bags.