Why CBFC asking changes in Pathaan, Besharam Rang is bad news for film industry
Jan 04, 2023 07:34 AM IST
Changes in the upcoming film Pathaan and Shah Rukh Khan and Deepika Padukone's clothes in the song Besharam Rang on the directions of the CBFC might help in preventing a Laal Singh Chaddha-fate but the future may not be bright for the film industry in such an environment.
Shah Rukh Khan and Deepika Padukone's seductive number Besharam Rang from their upcoming film Pathaan went on to become one of the most popular songs to be played around the New Year despite the controversy surrounding it. Weeks before its release, the Central Board of Film Certification (CBFC) has directed the makers to implement some changes in the film including the songs. Whether the CBFC has asked for a title change or a change in the clothes worn by Deepika in Besharam Rang or the lyrics of the song, has not been revealed. But this certainly doesn't seem to be good news for the entertainment industry as a whole. Why? Because neither Deepika is the first one nor the last to wear saffron in a racy number nor this is the first time her film or song is facing backlash ahead of its release. In fact, her big budget entertainer Padmaavat went on to collect ₹300 crore despite director Sanjay Leela Bhansali being slapped on sets and Deepika facing appalling death threats. This was all before the protesters had seen the film which they thought would hurt the image of their beloved queen in her biopic in which she neither wore a bikini nor danced to provoking lyrics. In the days to come, Pathaan may even become Deepika's third film to undergo a title change after Goliyon Ki Rasleela Ram-Leela and Padmaavat.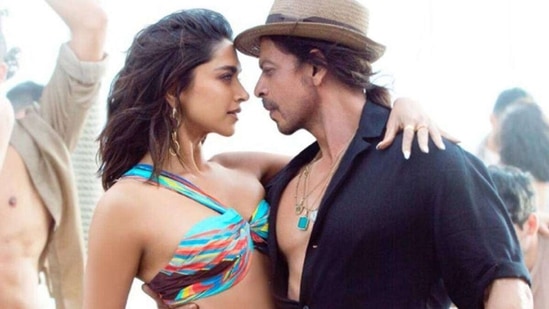 There is more to this. By every passing year, India has been becoming a more communally charged nation as compared to the days when Raj Kapoor's Satyam Shivam Sundaram faced a complaint over 'obscenity' but was given a go ahead by the Supreme Court, or Bandit Queen which was first criticised over abusive language and nudity but went on win the National Film Award for Best Feature Film. Thanks to Twitter, controversy spreads like wildfire and boycott calls are made without taking the pain of sending summons in person or filing a written complaint. A few actually take the onus of doing it for the sake of the 'faith' and the 'society'.
Objectionable and provocative to some, Besharam Rang faces backlash mostly from those who may never go to a theatre to watch the film. But what about those who are waiting with a bated breath to see Shah Rukh Khan on the big screen again and Deepika who's joining him with an intention to repeat the success of Chennai Express. Leaving aside some those in power or the caretakers of 'society', I am sure anyone hardly noticed the colour of Deepika's bikini or Shah Rukh's unbuttoned shirt with so much glamour on screen. Looking at the craze, number of views on Pathaan songs and trailer and the talk around it, there is little chance this Siddharth Anand film may end up like Happy New Year. One may question this brave attitude after the fate met by Aamir Khan's Laal Singh Chaddha but the boycott calls were more over the actor's old statements rather than the content of the film.
Coming to the racy lyrics which are being passed off as obscene and problematic, there is hardly any proof they are not in connection with the film's plot. Just like chowmein and dressing sense of women have been blamed for crimes against them, films are no different to bear the brunt. Shouldn't we shout louder for stricter laws and faster justice to curb crime?
If the colour of Deepika's bikini or Shah Rukh's shirt or the film title is actually changed, won't it be a confirmation that saffron is indeed the colour of Hindus and green belongs to Muslims. Why was Katrina Kaif allowed to wear saffron in the rain song Gale Lag Ja opposite Akshay Kumar in De Dana Dan then? Let's not go there, the list is endless. Pathaan may be a community but can't it be a nickname for a character? Who knows, on watching the film, we might be as proud of this Pathaan as we are of the former cricketer Irfan Pathan. I assume the practice of slotting colours, which are actually used to light up the screen, as per different religions may dampen the spirit of filmmaking in future with every artistic aesthetic coming under the communal scanner. All those calling out the song may also face a similar trouble with their artistic expressions in future.
There is also an underlying thought that Shah Rukh and Deepika are more prone to controversy because of their status. How filthier songs and vulgar B-grade films release in small towns without being x-rayed by the CBFC remains a riddle. A quick look at communal comments on Twitter is enough to indicate how Aamir and Shah Rukh's surnames are inciting the tiny section of the liberal Hindus these days. Or the rising unemployment and free Twitter are to blame. One may assume Shah Rukh's image took a hit after his son Aryan Khan was arrested in a drugs case last year. But like millions of fans, many questioned Aryan but not Shah Rukh, who continues to own the same stardom he had since 30 years.
I am an under-35 practising Hindu, proud of my upbringing in a religious household.
The author's views are personal.