James Cameron performs experiment to end Titanic door debate. Watch promo
Feb 03, 2023 03:33 PM IST
Director James Cameron will feature in 'Titanic: 25 Years Later with James Cameron' to answer the debate whether Jack could have survived at the end of the film. In a recently released sneak peek, the director explains how. Watch the full video below.
As Titanic gears up for its 25th anniversary with a release on February 10, director James Cameron is prepared for answering the decades-long question posed by fans whether Rose (Kate Winslet) could have saved Jack (Leonardo DiCaprio) from freezing to death and fit him beside her on the floating door. (Also read: James Cameron says he did scientific research to prove Jack and Rose couldn't have survived together)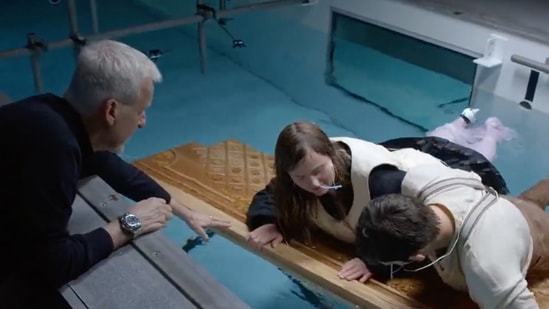 The Academy Award-winning director will feature in Titanic: 25 Years Later with James Cameron on National Geographic, which is all set to debut on February 5. In the sneak peak that has been released by Good Morning America, James Cameron is putting an end to all the fan questions by performing the experiment himself. To create the scenario, James came prepared with two stunt performers inside a water tank, so that he can see for himself whether two people could fit together on the floating door.
In the video, both the performers, appropriately resembling Jack and Rose in similar costumes, try out the scene together in various other scenarios. The video offers a look into James revisiting the scene from four different scenarios. In the first scenario, both Jack and Rose get on the raft but now they are are both submerged. In the other as shown in the sneak peek, both Jack and Rose could have got on the floating door, and kept their upper bodies without any contact with the freezing water. But given, there was so much physical energy already spent owing up to this moment in the film, the chances were less. Rose could have insulated Jack with a life jacket as well, but the chances were not really confirmed. At the end, James says that the decision of Jack to not get on top of the floating door ensures that Rose would be 100% safe, and that is what mattered.
James Cameron's Titanic released in 1997 and went on to create a landmark in the history of cinema with 14 Oscar nominations and 11 wins. Many among the audience believed that Leonardo's character Jack could have been saved in the film. They argued that Kate Winslet (Rose) had enough space to save him on the floating wooden door, which was used as a raft.
Titanic remains the third highest-grossing movie with a collection $2.2 billion at the box office. Meanwhile, James' latest movie is Avatar: The Way of Water is currently ruling the domestic box office. On its opening day, the film collected approximately ₹38-40 crore. It crossed the opening day collections of Avengers: Infinity War and Spider-Man: No Way Home in India.