Ashneer Grover reveals how carefully Salman Khan preserves his image: 'Banda genuinely smart hai'
Jan 18, 2023 03:05 PM IST
In a recent podcast, Ashneer Grover talked about working with Salman Khan on an ad for Bharat Pe and how he realised that Salman knew how to preserve his image.
Former Shark Tank India judge and Bharat Pe co-founder Ashneer Grover has spoken about working with Salman Khan a few years ago. Salman was hired as an ambassador for Bharat Pe and Ashneer got to chat with him too. While Salman refused to get clicked with Ashneer, something he didn't feel the happiest about, the businessman did accept that Salman is a 'smart banda'. Also read: Ashneer Grover says he won't watch Shark Tank India 2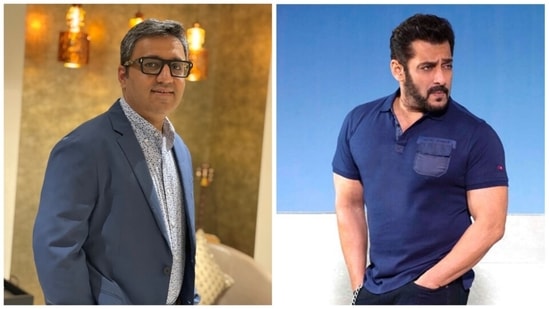 Ashneer appeared on the Vagehra Vagehra podcast recently and spoke about being denied the opportunity to click a picture with Salman. "Usko humne sponsor rakha tha, uske shoot ke liye mila tha, usko brief karne ke liye company ke baare mein. Teen ghante baitha tha uske saath, uske manager ne bol diya photo nahi khichwani, sir thoda bura maan jaate hain. Maine bola nahi khichwaunga photo, bhaad mein jaa tu, aisi kaunsi heropanti hogayi (We kept him as a sponsor and I met him for the shoot to tell him about our company. I sat with him for three hours and his manager said that there will be no photos with him as 'Sir' doesn't like it. I said fine I won't do it. Go to hell, why such attitude)."
However, that day Ashneer also realised that Salman does care a lot about his image. He said that he wishes to look larger-than-life, which is how his audiene also liked him. "But banda smart hai. Logon ko lagta hai ke hawa mein hai, banda genuinely smart hai, usko business samajhta hai, usko branding samajhti hai, usko apni image clear hai. Jab hum ad bana rahe the, usne clear bol diya tha ke mujhe larger than life hi dikhana kyunki maine picture banayi thi Tubelight, woh pit gayi kyunki mujhe usme mandbuddhi dikha diya. Mujhe laga sahi banda hai, yeh sab cheezon ki realisation hai (But he is a smart man. People think he has no substance but the guy is genuinely smart, understands business, branding and knows what his image should be like. When we were making the ad, he said it clearly that he wants to appear larger than life. That's because he had made a film called Tubelight and it didn't work because he was shown like a simpleton)."
Last year, addressing students at Lovely Professional University in April, he spoke about getting Salman onboard to shoot the ad. He said, "I decided to get Salman Khan as brand ambassador in 2019. Nobody could even think about it at that point. I was a small company, and I had to generate trust overnight for my business. So I thought I should take Salman as my brand ambassador. When I approached Salman's team, they told me that they will charge ₹7.5 crores, which is when I started calculating as I had ₹100 crore on me. I will give him ₹7.5 crore, spend another ₹1-2 on making the advertisement, and then I have to pay broadcasters as well. It's going to be a ₹20 crore expense and I have only ₹100 crore in my pocket, with no certainty if I would get another round of investment. So I asked Salman to decrease his price, and he agreed to do it for ₹4.5 crore."
Ashneer recently released a book called Doglapan.