Bigg Boss 16: Salman Khan finally calls out Archana Gautam, says she's come in 'khairaat'
Jan 06, 2023 05:20 PM IST
Bigg Boss 16 new promo: Salman Khan slammed MC Stan and Archana Gautam after they attacked each other during a verbal fight on the show.
Salman Khan will be taking charge in the upcoming weekend episode of Bigg Boss 16 and confronting contestants MC Stand and Archana Gautam who recently engaged in a heated argument. Recently, Archana told MC Stand that he has survived in Bigg Boss due to the viewers' alms and called him the servant of Bigg Boss. Responding to her, MC Stan told her, "Tere baap ka naukar hai kya (Am I your father's servant)?" and also made a comment on her mother. Colors TV dropped a new promo from the Saturday special show, Shanivaar Ka Vaar, where Salman is seen slamming both for their behaviour. Also read: Bigg Boss 16: Archana Gautam calls MC Stan 'ghatiya'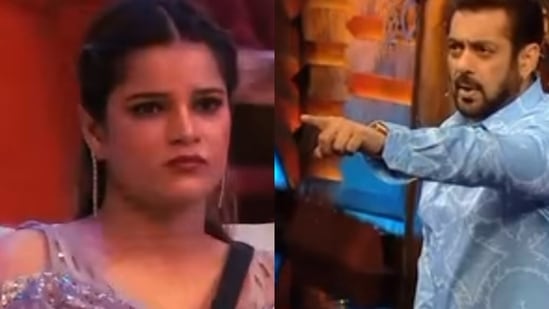 An angry Salman Khan tells MC Stan, "Maa-Baap ke upar jaane ka matlab kya hai yaar (What is the point of dragging someone's mom and dad?)." He asks MC Stan to judge himself and tell him if he was right or wrong in the case. The rapper apologises, "Woh jo baat kara, woh gandi baat kara maine (What I said was wrong)."
After MC Stan, Salman moves to Archana. He tells her, "Archana aapne kaha na khayraat me aya hai. Agar iss ghar me koi khayraat me aya hai na toh woh Archana hai (Archana you told him that he has come because of the viewers' alms, if anyone can been here because of alms then it's you)." She refuses to change her statement and answers, "Sir, main sahi hun (I am right)." Salman lost his calm and responds, "Agar yeh aapka attitude hai toh abhi ke abhi darwaza kholta hun, jayiye aap (If this is your attitude then I can open the door for you right now and you can go)."
For quite some time viewers have been calling out the show for being partial towards Archana. Now it seems Salman will be finally taking her class in the upcoming episode.
Reacting to the new promo, a user took to the comment section and wrote, "Archana ko nikalo (Remove her)." "Leaving is one word #mcstan totally right," added another one. Someone else commented, "No doubt archana rude hai... But jo stan ne bola Archana ko vo bht zyada galat tha (Archana is rude but what Stan has said to her is very wrong)."
The argument between Archana and MC Stan started when she screamed at him and said, "Kab tak janta ki khayraat mein rahega yaha pe? Janta aese ghatiya logo ko pasand nahi karti. Iske saare fans ko main bolna chahti hun isne jharu nahi lagayi bhaiyya (For how long will you stay here on the viewers' alms? The audience doesn't like such cheap people. I want to tell all his fans he hasn't cleaned the house)."
MC Stan in anger asked, "Tere baap ka naukar hai kya (Am I your father's servant)?" and Archana replied, "Mera baap Bigg Boss hai, uska toh naukar hai na (My father is Bigg Boss, you are his servant, right)?" He further told her, "Tera baap hai Bigg Boss (Bigg Boss is your father)?" and made a comment about Archana's mother.
Bigg Boss 16 airs Monday to Friday at 10 pm. On Saturday and Sunday, it airs at 9 pm on ColorsTV. The program is hosted by actor Salman Khan who joined the reality show in its fourth season.