Tina Datta howls on Bigg Boss 16 after Salman Khan questions her, says 'tod diya mujhe': 'I want to go home'. Watch
Jan 21, 2023 09:44 PM IST
Bigg Boss 16: Tina Datta wept bitterly after Salman Khan questioned her over her game plan. She said she wants to go home adding 'they have broken me'. Watch.
Bigg Boss 16 contestant Tina Datta cried after the show's host-actor Salman Khan asked her several questions. Taking to Instagram on Saturday, ColorsTV shared a series of clips in which Salman spoke to Tina and Priyanka Chahar Choudhary. Tina also said while crying that she wants to leave the show as she is blamed for everything. (Also Read | Angry Salman Khan schools him as Shalin Bhanot defends his comment about Tina Datta)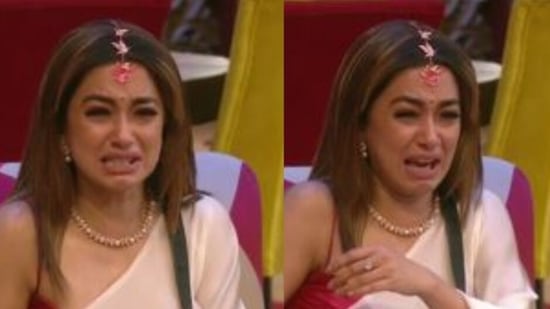 Speaking with Priyanka about Tina, Salman Khan said, "Tina ne aapse kahi k Shalin (Bhanot) ne aesi aesi cheezen mujhse maangi hai na tu hil jayegi Priyanka ki usne mujhese kya manga hai (Tina told you that you will be shocked to know what all Shalin has asked from me)." Looking at Tina, Shalin said, "Wow."
Salman then told Tina, "According to you, you knew beforehand that Shalin is planning all these. Phone calls from outside, we will play together and all that. Now after 15 weeks, when there was a fight and Tina is saying that this was her game plan."
Tina, almost on the verge of tears, said, "I have gathered my broken pieces to fight back sir. But in every matter--during nominations Soundarya (Sharma) did it because of you. Har cheeze mein mereko blame kiya jaraha hai (I'm being blamed for everything). I'm a human being, till when should I tolerate sir?"
Gesturing Tina to stop, Salman said, "You have said everything, Tina." He also said, "All this was bottled up inside for 15 weeks because everything was fine. Now that it's not fine anymore, it has been spoken about."
Tina started crying and said, "I'm tired. I want to go home, sir. I'm done with everything. Har cheeze ka mere upar blame araha hai (In every matter, I'm being blamed). I'm tolerating it for the last three weeks. How much more? It takes two to make a quarrel."
Salman then told Tina, "What did I say? So far it was okay. Now it is not okay. So everything is coming out." As Tina tried to defend herself, Shalin asked why she was talking about him and Salman smiled. She then said, "I'm tired of being in this house giving justifications and explanations."
In a clip, Tina was seen lying on the bed crying and screaming repeatedly that she wants to go home. Speaking with Priyanka, Tina howled and said, "When I wasn't talking about him for two weeks no one said anything then. He provoked and I responded then I am wrong? I want to go home. Tod diya mujhe (They have broken me)." Bigg Boss 16 airs from Monday to Friday at 10 pm and Saturday and Sunday at 9 pm on ColorsTV.